User-Centered Design Boosts Account Enrollment for Banking Organization
Sunflower Bank is a Denver, Colorado headquartered bank offering a full range of financial products. The company has over 60 locations throughout the United States under the brands: Sunflower Bank, First National 1870, and Guardian Mortgage. Through their more than 120 year history, they strive to create possibility in the lives they touch and the communities they serve.
Challenges
Sunflower Bank was in need of an overhaul of its existing web properties to align with ongoing business goals. The organization wanted to increase the amount of new mortgage and account applications but its websites were difficult to navigate. Finding an ATM or branch location required a large number of clicks and the overall design didn't attract a younger generation of bank users. Additionally, each of Sunflower Bank's three sites were hosted on separate platforms, which caused internal challenges for the web team.
Project
Platform
Expertise
Digital Marketing
Experience Design
Hosting & Security
Strategy & Insights
Web & Application Development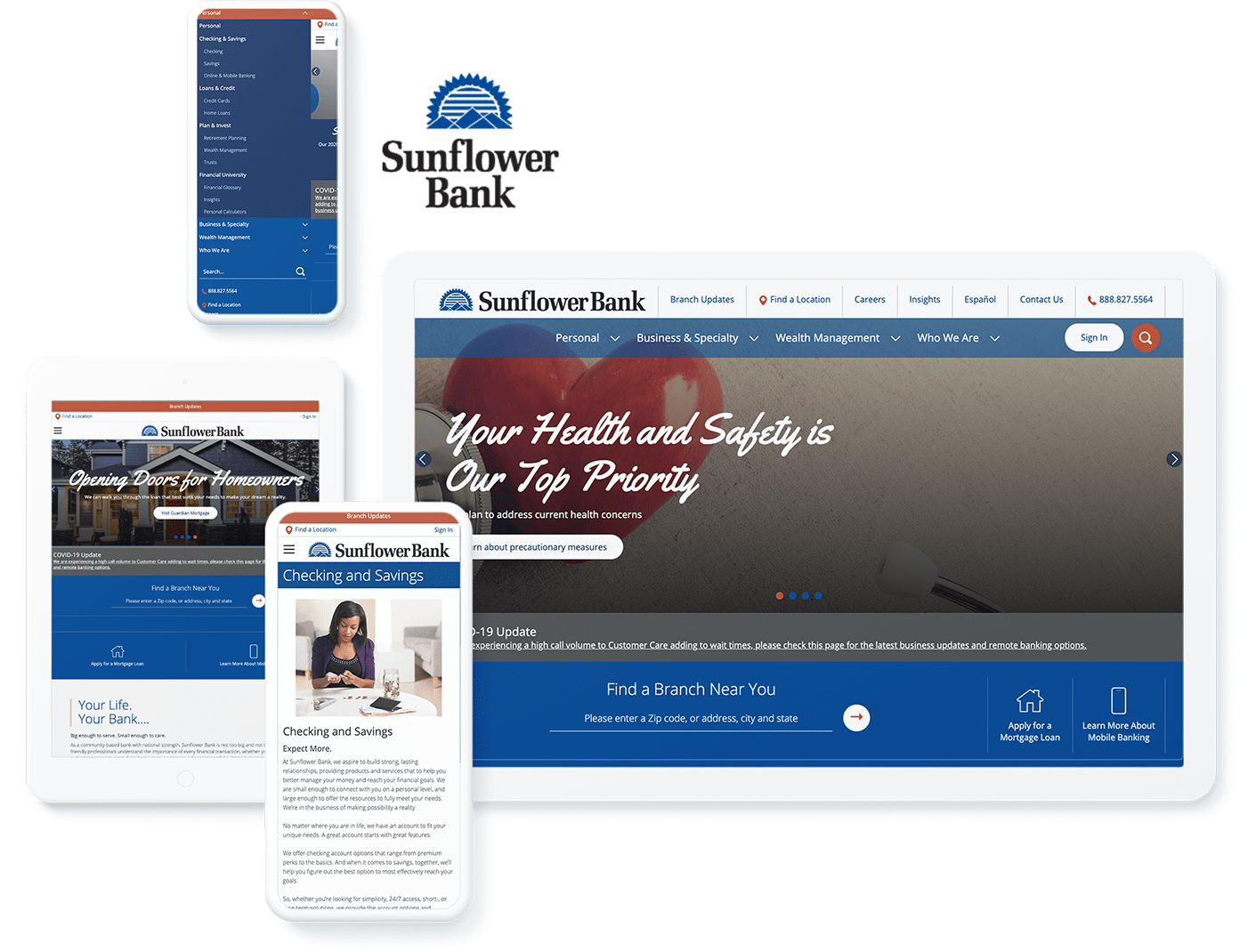 Solutions
Sunflower Bank came to Americaneagle.com seeking a digital agency that could develop a web presence to act as another branch of the bank, and convey the bank's philosophies. With this in mind, Americaneagle.com began with a thorough discovery and definition phase. The team conducted a full user behavior analysis, a CMS recommendation strategy, a personalization plan, and a functional strategy to determine integration specifications and requirements. A style guide and wireframes were also created to ensure the look and layout of the site met Sunflower Bank's goals and consistently reflected the brand's values.
Americaneagle.com ultimately recommended the Kentico platform as the .NET coding met Sunflower's security needs and the diverse toolset allowed for the functionality that the personas and user journeys required.
Work began on a full buildout, with several custom features to meet the bank's needs. For the design of the Sunflower Bank and First National 1870 sites, account sign in and enrollment functionality was pushed to the homepage of the site, with large calls to action to entice users to click. A branch locator was integrated with Google Maps with refinement options to allow customers to search for locations with ATMs, wealth management advisors, and Spanish speaking associates. The Guardian Mortgage website launched with similar functionality, with an added 'Mortgage Loan Originator' directory to allow users to search for individual advisors in their area.
Thanks to Kentico, all of this content is presented on multiple websites but stored in the same repository. Content that Sunflower Bank wants to replicate can be updated on all sites at once, while content that is specific to either brand can remain siloed, without requiring multiple administrative logins, or, in many cases, even separate pages.
Since launching, Sunflower Bank has seen incredible results. The three sites now serve as a powerful arm of the organization, to ensure the bank's long term success.