Targeted Digital Marketing Campaigns Boost Revenue for Ecommerce Store
SOLOSupports.com is the ecommerce apparel and merchandise store for SOLO Cup, established with a charitable focus to donate 1.5M meals to Feeding America through sales of products. SOLO Supports offers products featuring their iconic designs including Jazz, Anthora, and Red SOLO Cup.
Challenges
SOLO Supports was struggling to drive quality traffic to their ecommerce store through Google Ads. Although they were running search and shopping ads, the store wasn't receiving visits from quality shoppers, and wasn't generating much revenue. The SOLO Supports team wanted to increase revenue through digital marketing efforts and needed an experienced agency to handle their challenges.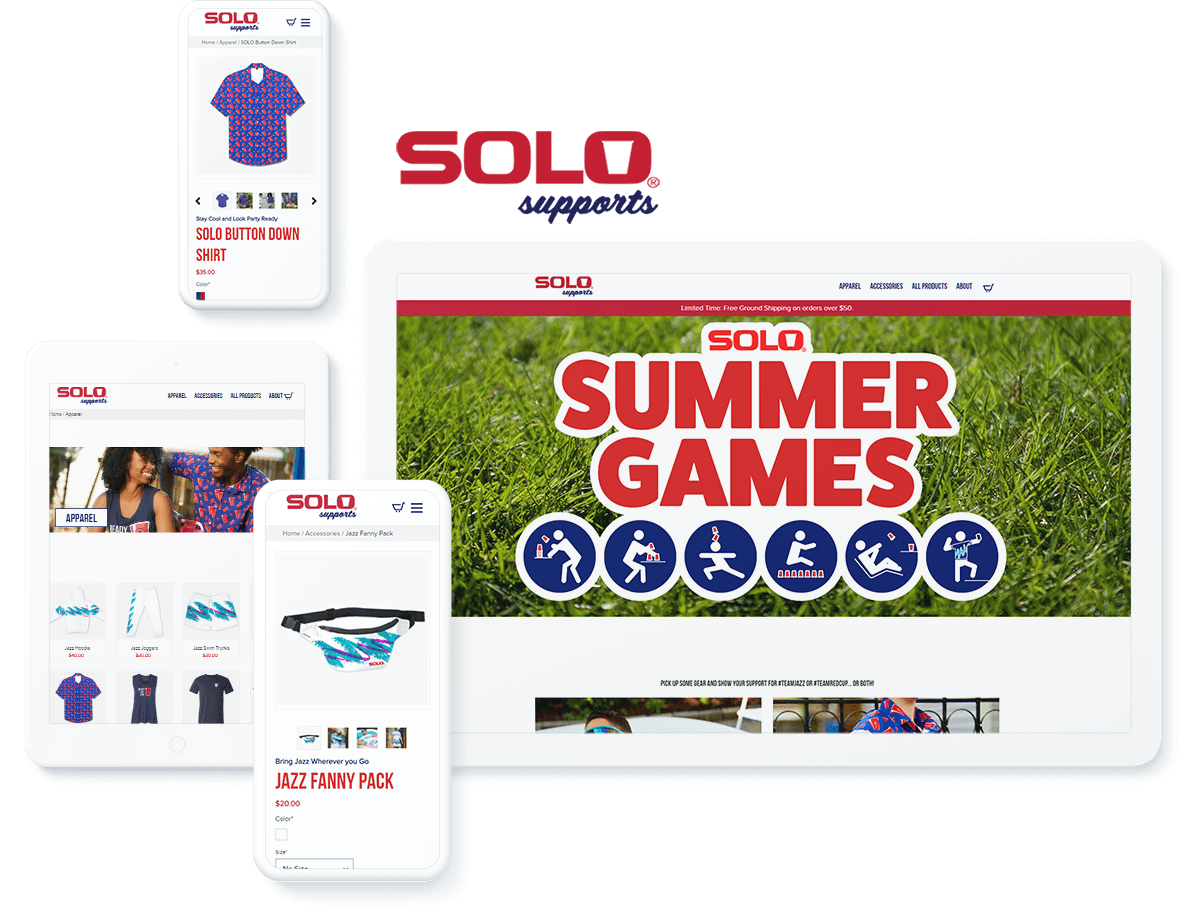 Solutions
Americaneagle.com took over the SOLO Supports Google Ads accounts and began building targeted ad campaigns that would resonate with quality shoppers over the holiday period. The digital marketing team supported SOLO with paid advertising management through a number of features including: conversion tracking, optimized shopping ads, and analytics and measurements.
Upon initial review, Americaneagle.com identified that SOLO's Google Ads conversion tracking was not set up correctly and it was running ads against add-to-carts and pageviews. The conversions were wasting ad spend with zero return so the digital marketing team overhauled the conversions and properly set up transaction conversions on site. Once the issue was fixed, the team optimized the Cost Per Click (CPC) for the shopping ads and managed the campaigns daily spend according to the allotted budget. The team created a Google Data Studio report to share the success of the ecommerce store along with all Google and social media ad campaigns.
The digital marketing team expanded upon paid advertising management initiatives by building out search ad campaigns for branded, non-branded, and gifting keywords to reach SOLO's target audiences. Previous campaigns were bidding for general broad match keywords so Americaneagle.com created a list that focused on short and long-tail keywords around the brand and products focused on high search intent. Additionally, the team used phrase match rather than broad match to ensure the correct audience was captured. Traditional and responsive display ads were created to bolster the search and shopping ads in order to generate the most impressions possible. Americaneagle.com developed remarketing audiences based on website visits to keep SOLO Supports top-of-mind for any previous visitors.
To engage audiences on YouTube and the Google video network, the team set up video ads for additional opportunities to raise brand awareness. The digital marketing team also set up a TikTok campaign to reach a younger demographic, which proved to be successful in driving relevant shoppers to the SOLO Supports store.
Within two months, Americaneagle.com was able to generate 6.2M impressions via advertising for SOLO Supports, driving more than 58,000 clicks to the website. During this period, the ecommerce store saw an increase in revenue of +367% from the previous period.