Samaritan Health Services
Digital Transformation Enhances Healthcare Provider's Operations
Samaritan Health Services is a non-for-profit regional health system that joins the resources of community hospitals, providers and medical clinics to serve over 250,000 residents in Oregon. The organization also operates Samaritan Health Plans, a large offering of insurance products that serve the healthcare needs of individuals, employer groups and Medicare/Medicaid enrollees.
Challenges
For years, Samaritan Health had been segmented between the Health Services and Health Plans sides of the business. The organization had a major goal to build synergy between its healthcare and insurance businesses by unifying content management, content sharing, and software systems. In addition, Samaritan Health wanted to look towards the future of personalization and tailor the site experience to its wide ranging audience.
Platform
Expertise
Events
Responsive Design
Web & Application Development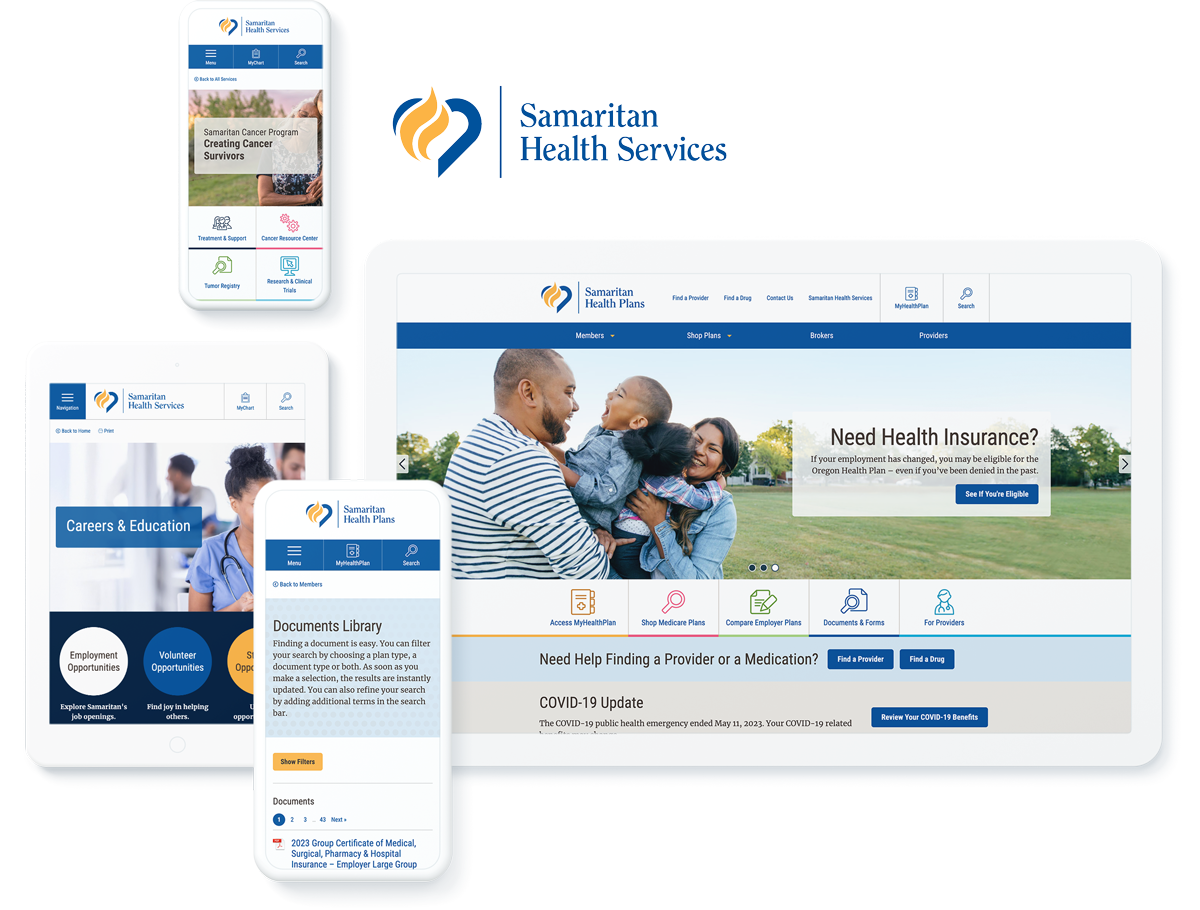 Solutions
After recognizing the need for an enhanced and much improved website, Samaritan Health embarked on revamping its digital web presence. Americaneagle.com built a solution on Sitecore and launched 11 websites for both Samaritan Health Services and Samaritan Health Plans in just under a year.
Americaneagle.com began by providing an in-depth design, content and technical strategy based on user-testing and persona-creation, in-person focus groups, and data analysis for their two brands. Americaneagle.com was responsible for overall website design and provided multiple layouts for key landing pages, ensuring they aligned with the Samaritan Health brand and followed the best practices for responsive design.
One of the largest goals of the project was to get Samaritan Health Services and Samaritan Health Plans under one digital umbrella. To achieve this, Americaneagle.com moved both business units on to Sitecore and created a shared repository that would serve content across Samaritan Health's 11 websites. Now, Samaritan Health's team of 30 content editors can quickly produce and share assets across each brand.
A custom Health Plan Comparison tool was also designed to allow brokers and employers to make informed decisions on plans. Utilizing Sitecore's Experience Marketing platform, custom reports were built to track the submissions for plans based on the counties within Oregon. With this data and additional tracking, Samaritan Health is now able to personalize content. The Samaritan Health team continues to analyze behavior via Hotjar, using heatmaps, videos of users navigating the site, custom funnels and form analysis. Since partnering with Americaneagle.com, Samaritan Health now enjoys a more cohesive and personalized digital presence.

"Moving to Sitecore with Americaneagle.com as our implementation partner has opened up a world of endless opportunities for us. It has offered us flexibility in design, content management and experience marketing, allowing us to use our website for market research to increase consumer engagement."