Holiday Season Shines Brightly for Razny Jewelers
Since 1951, Chicagoland's first family of jewelers has elevated five-star service alongside unparalleled custom creations at Razny Jewelers. The business has earned a respected reputation for its extensive options in premium watches, timepieces, diamonds, and fashion jewelry collections. Now operating four destination locations in Chicago and the surrounding suburbs, Razny Jewelers also serves clients via a leading digital storefront at www.razny.com.
Challenges
Three months ahead of the busy holiday season, the marketing leadership at Razny Jewelers challenged Americaneagle.com to reimagine the web publishing solutions available to their in-house team. The priority for this project was efficient access to content development and web publishing tools that would be dependable and intuitive for entry-level contributors.

Razny Jewelers also maintains several globally-recognized brand relationships. For these established brands, each has detailed standards that must be adhered to without fail. To promote success within these brand standards, a mini-site within the URL structure of Razny's digital presence was proposed as a smart, brand-friendly solution. Rolex, makers of the world's finest timepieces, would be the first mini-site to be developed as part of this project.

This project was to deliver an elegant digital solution that provided clients with a shopping experience that paralleled the sophistication and satisfaction delivered at the four physical Razny Jeweler locations. It also had to be fast. On-site speed was as critical as satisfying a quick, three-month project timeline.
Project
Platform
Expertise
Strategy & Insights
Web & Application Development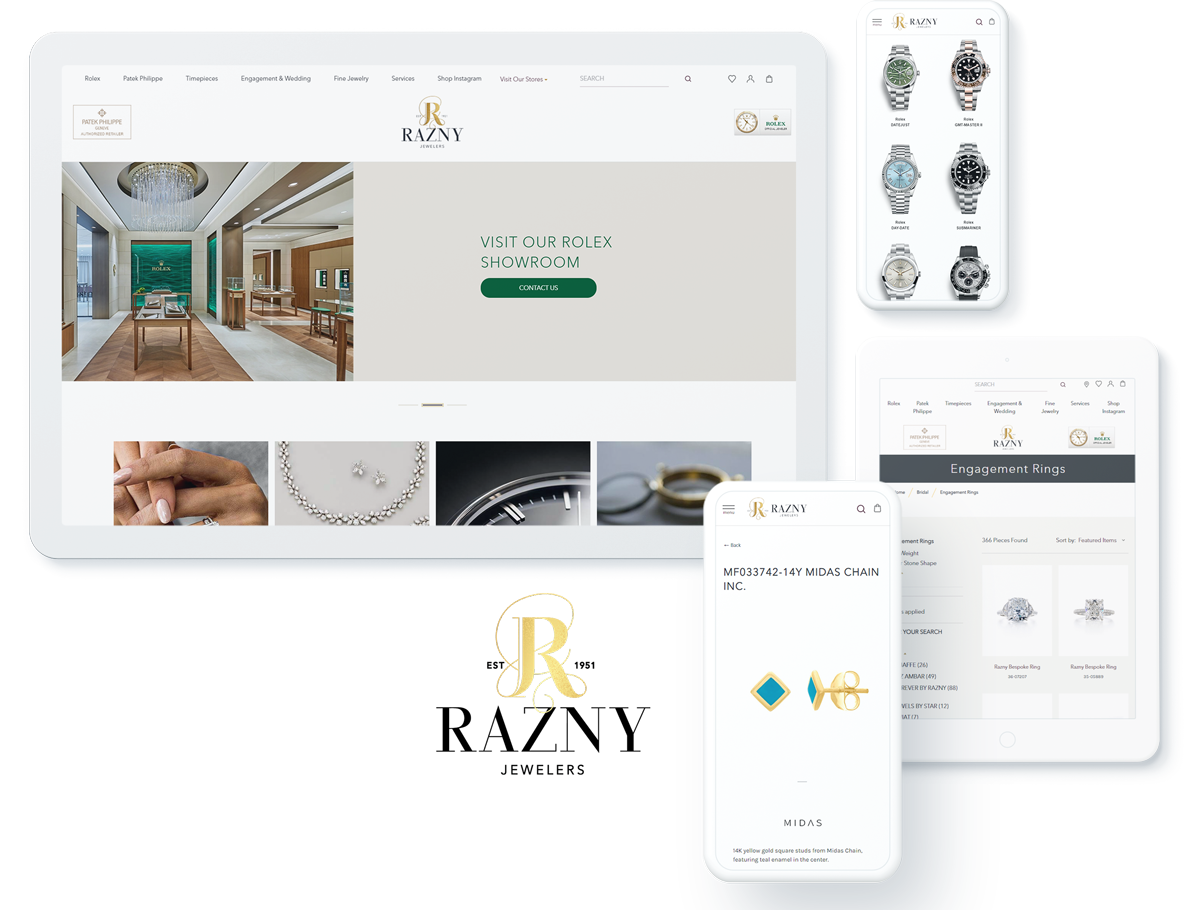 Solutions
Americaneagle.com has a range of professional expertise and, specifically, BigCommerce proficiency required to rise to the needs and timeline of this project. As an agency with Elite partnership status with BigCommerce, the advanced, widget-forward approach to custom maintenance was efficiently pursued. The editing environment that resulted now allows the Razny Jeweler team to quickly edit pages that highlight new products and promotions within tight retail timeframes.
An exclusive Rolex mini-site provided Razny Jewelers with all they were hoping it would accomplish. While there are elements of kinship that visually tie the Rolex mini-site to the rest of the Razny Jewelers site, the extra level of unique brand standards is more easily accommodated within it. Both sites continue to be contained within the same domain. Due to the impactful success of this mini-site, two more brands, Brightling and Patek Phillippe, will soon receive similar attention from the digital solutions team.
The new site and mini-site launched ahead of the targeted holiday season. The foundational strategy for this digital presence proved successful. Razny Jewelers realized record-setting website traffic and engagement in that fourth quarter.
The new website, www.Razny.com, was recognized as a gold winner in the AVA Digital Awards. Each year, the AVA Digital Awards recognize select recipients for their excellence in digital creativity, branding, and strategy.