Changing the Way Young Athletes Showcase Their Talent
Players Nation gives talented high school level baseball players an opportunity to present their athletic abilities on a nationally recognized website that is closely followed by college and university scouts, coaches and recruiters. Utilizing their high profile showcases and tournaments, the organization presents students' data and video footage to market the athletes to interested stakeholders.
Challenges
Players Nation developed a vision for their business and the services they wanted to offer young aspiring athletes, but the technical business requirements that would be needed to create a website capable of accomplishing their goals was largely undefined.
Project
Platform
Expertise
Strategy & Insights
Web & Application Development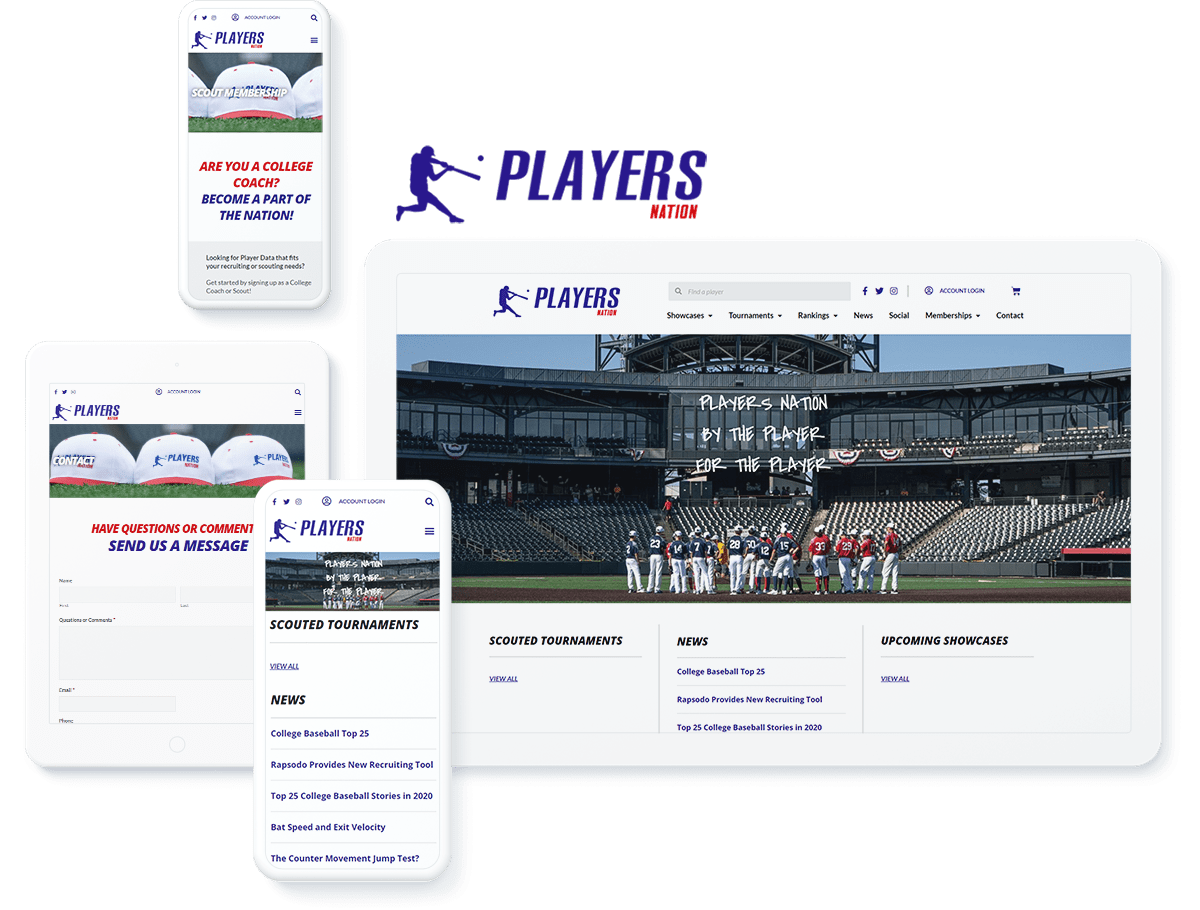 Solutions
Players Nation chose Americaneagle.com for our decades of expertise in building complex websites, as well as our vast amount of experience in the sports industry.
The first part of this project was devoted to an in-depth strategy and planning stage, as the Americaneagle.com team closely evaluated the objectives for the first ever Players Nation website. From there, a technical road map on how to build the site on the WordPress platform was completed.
Americaneagle.com's ability to translate the company's business model into the functionality of the website proved to be extremely valuable to Players Nation.
Whether they be a player, coach, athletic scout or even an enthusiastic fan, each registered visitor can use their dashboard to meet the needs of their role and objectives.
Athletes participate in showcases put on by Players Nation that are designed to highlight students' specific baseball abilities. The stats and videos complied during the showcases are then added to their profiles to be shared with college recruiters and scouts. An overall ranking page features all players and can be searched by a number of categories. More advanced filtering of data is available to Players Nation members.
Baseball organizations that put together summer programs utilize Players Nation's services for showcases, which serve as a great platform to feature each athlete's specific abilities.
Additionally, college scouts can sign up to be a member/user and create their own tailor fit dashboard. This allows them to compile a watch list of players that they would like to follow. Scouts can email players to inform them that they are on the watch list.
A dedicated news page contains helpful information and external news sources, all catering to both the summer programs and the parents of the athletes. The social media page houses all of Players Nation's Twitter and Facebook activities for the high school students involved in the program.
The partnership between Americaneagle.com and Players Nation is a great example of first executing a complicated strategy/design project, which ultimately led to the development of an engaging, dynamic and easy use website for a diverse number of audiences.