Packaging Complexities are Snap with Agile Catalog Solution
Packaging HERO® has been a supplier and contract manufacturer in the corrugated packaging industry since 1984. The company is a leader in custom packaging design solutions and supplements its custom offerings with over 25,000 standard products across 10 major categories. Packaging HERO is a Chicago-based company founded in 1984. They have four distribution centers across the US.
Challenges
Packaging HERO had, since its inception, relied on traditional sales efforts to promote their products and solutions to potential clients. Their previous attempts at ecommerce solutions had not been very successful. Pursuing a next-generation digital presence, Packaging HERO wanted to merge seven websites that featured the company's different product lines into one functional, singularly-branded website. Design cues would need to be taken from print promotions to establish strong kinship across branded assets.

A leading requirement in a redeveloped ecommerce website would be the ability to create an intuitive and agile catalog to feature thousands of different product and size combinations.

Additional core requirements of a new platform were to showcase bulk pricing promotions and efficiently align numerous warehouses, partner product suppliers, and deliveries. Sophisticated warehouse and shipping integration logic was lacking within Packaging HERO's digital solutions.

Following a rebranding from their previous name, Conpac Group, Inc., the leadership at Packaging HERO was confident that the timing was right to pursue a unified, customer-first digital solution with Americaneagle.com.
Project
Platform
Industry
Ecommerce
Manufacturing & Distribution
Expertise
Web & Application Development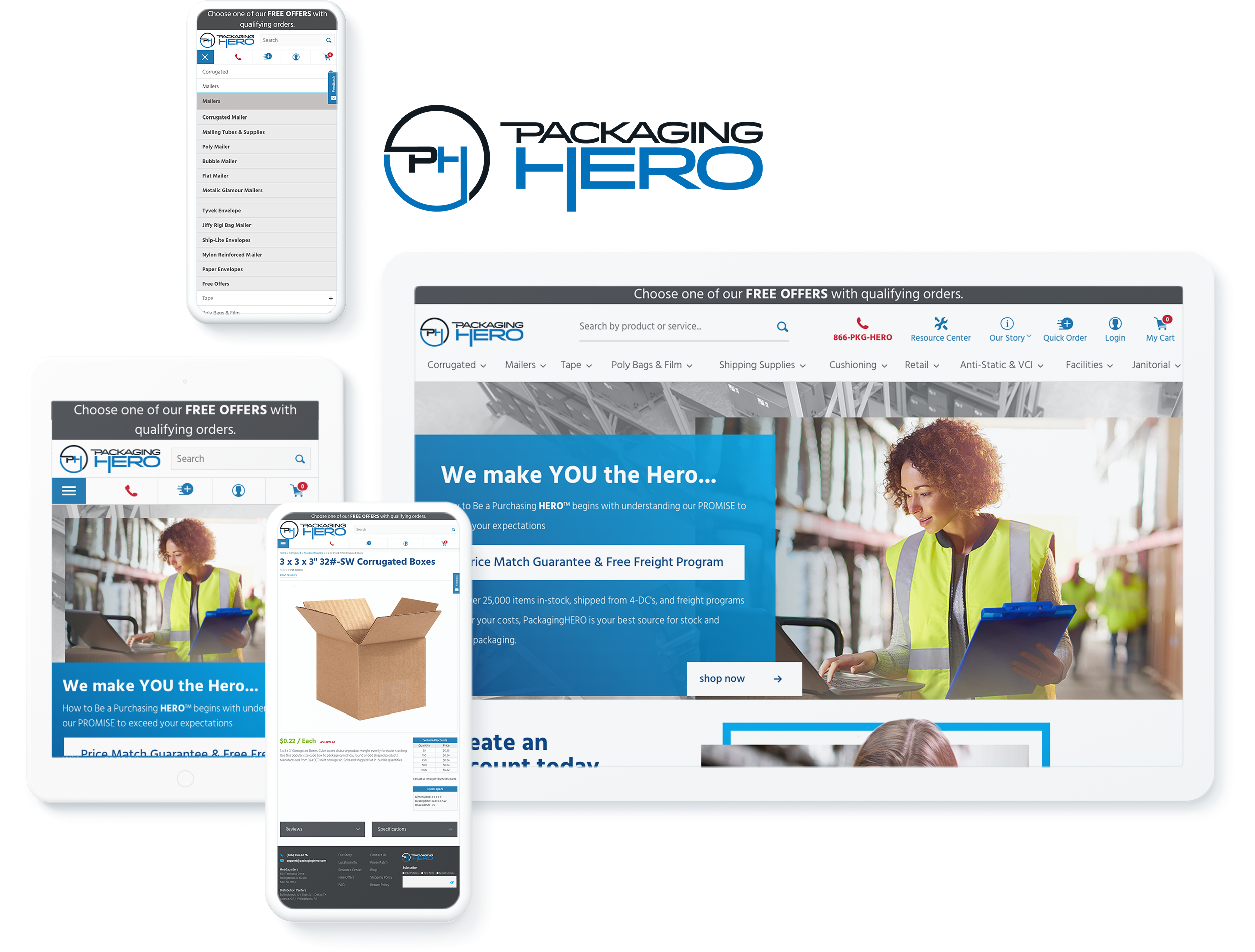 Solutions
The new site and ecommerce solutions would be built out at the URL secured for the company's rebrand, packaginghero.com. The search for an enterprise B2B ecommerce platform led Packaging HERO to Znode. Product catalog flexibility in a sophisticated, yet intuitive management environment, was a leading factor in that choice. The development team from Americaneagle.com was confident that the platform selection could be maximized to deliver successful, next-generation web solutions for Packaging HERO.

The product listing variables within the new site's catalog were a significant achievement. Packaging product quantities and size variations multiply the selection options exponentially. Each product category in the new solution carries different attributes, displaying varying numbers of attribute columns. This thoughtfully customized ecommerce experience provides each shopper with the product detail and selection confidence they seek.

Upon implementation of Znode, Packaging HERO was able to manage complex order information and align warehouse distribution centers to specific geographic regions. Detailed shipping solution logic has enabled order fulfillment in the fewest number, and most timely, deliveries.