Restaurant Operator Enhances Digital Experience Through Platform Upgrades & Integrations
P.F. Changs is an Asian restaurant concept founded on making food from scratch every day in every restaurant. P.F. Chang's is the first multi-unit restaurant concept in the U.S. to honor and celebrate the 2,000-year-old tradition of wok cooking as the center of the guest experience. Today, the concept operates in over 210 locations across the U.S., including airport locations, and 95+ locations across 25 countries worldwide.
Challenges
As the digital world continued to evolve, P.F. Changs original Sitefinity website implementation and supporting technologies grew outdated. Basic site changes, such as daily updates and promotional content, proved to be extremely difficult; third-party ordering was hindered by a clunky experience, slow page load times, and exceptionally high abandonment rates; and the customer rewards functionality was significantly lacking in terms of UX and modern development practices. Lastly, P.F. Changs was committed to ensuring their website was ADA (American Disabilities Act) compliant. In all, the company needed a revamped website in order to efficiently serve its customers.
Project
Platform
Expertise
Accessibility
Experience Design
Web & Application Development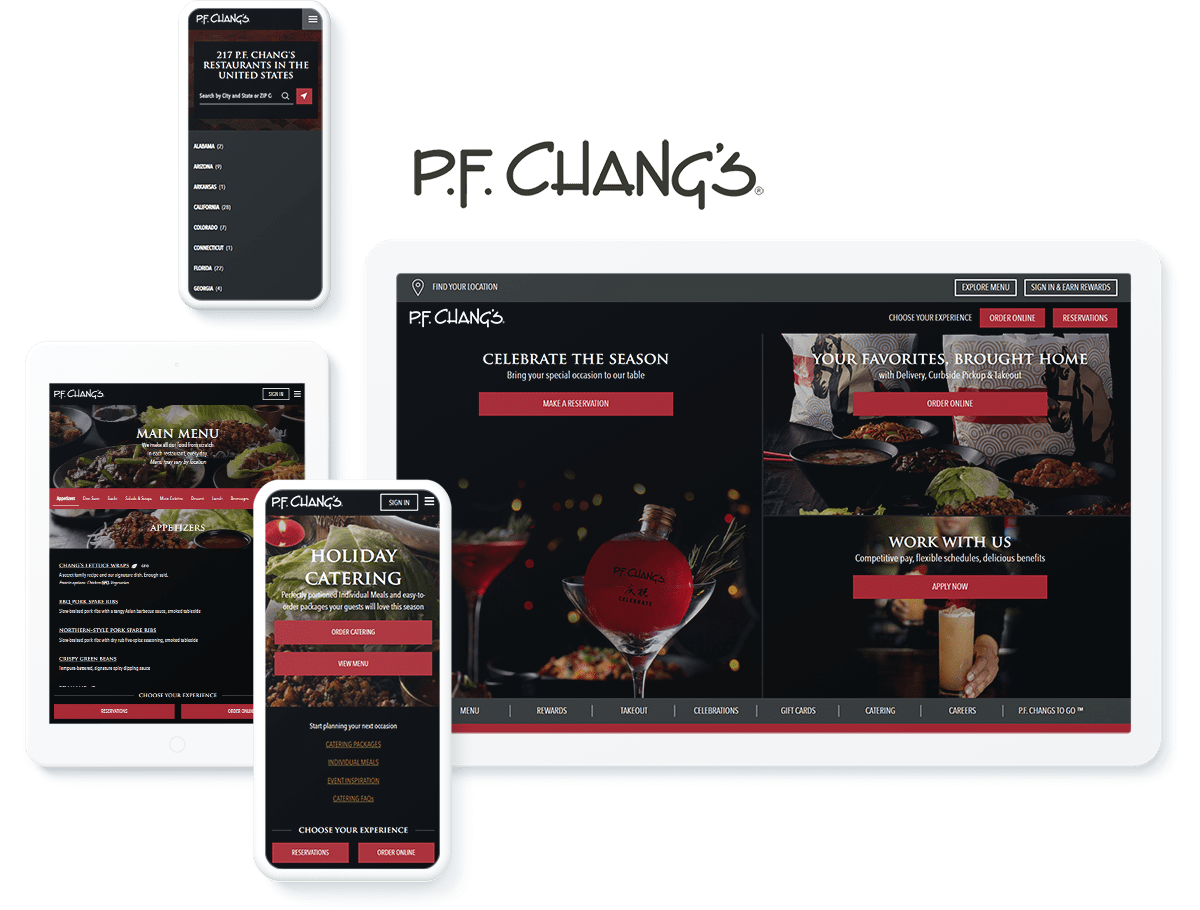 Solutions
When P.F. Changs set out to redesign their website, they chose to partner with Americaneagle.com because of their status as a Progress Platinum Partner as well as their decades of digital expertise. The project motivated a simultaneous modernization of P.F. Changs internal software packages, libraries, and DevOps processes across the entire organization. It included a transition to the most recent version of Angular, supported by Sitefinity and Bootstrap, and eliminating a variety of other legacy tools. The new site was built on Sitefinity v13, allowing P.F. Changs to take full advantage of its latest capabilities such as the new admin and content editing user interface.
Sitefinity's extensibility played a major role and allowed for secure and performant integration with third-party systems including CDP and database for rewards management, Yext for personalized location content, and an online ordering system. The company moved to a widgetized structure across the site to allow content editors and marketers to make content changes and website pages that provided loyalty information and account details that had previously been hardcoded integrations and were high trafficked are now built on Sitefinity. To finish, Americaneagle.com tapped into Siteimprove's accessibility capabilities and implemented the tool as an extension to the Sitefinity CMS.
Since partnering with Americaneagle.com, P.F. Changs is able to invest their time and resources into site enhancements and optimizations, rather than fixes. By leveraging Sitefinity, their page speed and performance have vastly improved, and marketers have more control over the entire experience significantly decreasing site maintenance costs.
Results
30

%

Increase in Overall Site Page Views

4

%

Increase in Overall Site Sessions

25

%

Increase in Overall Pages Per Session

5

%

Increase in Mobile Traffic

45

%

Increase in Menu Pages Engagement

The upgraded Sitefinity platform version and implementation significantly improved page experience and performance of the P.F. Chang's marketing site. The rebuild enabled us to efficiently optimize content structure and hierarchy leading to significant visibility increases in organic search. We've seen a 41% increase in site pageviews, 40% YoY increase in the number of keywords ranked on page one of Google and a 20% YoY increase of organic impressions our menu pages. Additionally, we immediately observed improvements in detected page experience and page load speed scores which was a huge win.