Digital Marketing Strategy Helps Fire Equipment Distributor Realize Organic Growth
Founded in 2001, Dinges Fire Company is a fire equipment distributor headquartered in Amboy, Illinois. Over the years, Dinges has grown to 75 team members across seven states: Illinois, Michigan, Wisconsin, Iowa, Indiana, Missouri, and Minnesota. The company distributes over 200 brands including Lion Protective Clothing, Bullard, Bulldog Fire Hose, and more, and offers a variety of products such as leatherhead metals, clothing and apparel, equipment, tools, and more.
Challenges
Dinges Fire Company came to Americaneagle.com because it was looking to improve its online brand presence as well as overall brand awareness. It had recently designed a brand-new WordPress site through a third-party developer, but wasn't sure how to go about attracting new visitors. After an initial audit, Americaneagle.com decided that a robust search engine optimization (SEO) and pay-per-click (PPC) strategy would help Dinges achieve its goals.
Project
Platform
Industry
Manufacturing & Distribution
Expertise
Digital Marketing
Experience Design
Strategy & Insights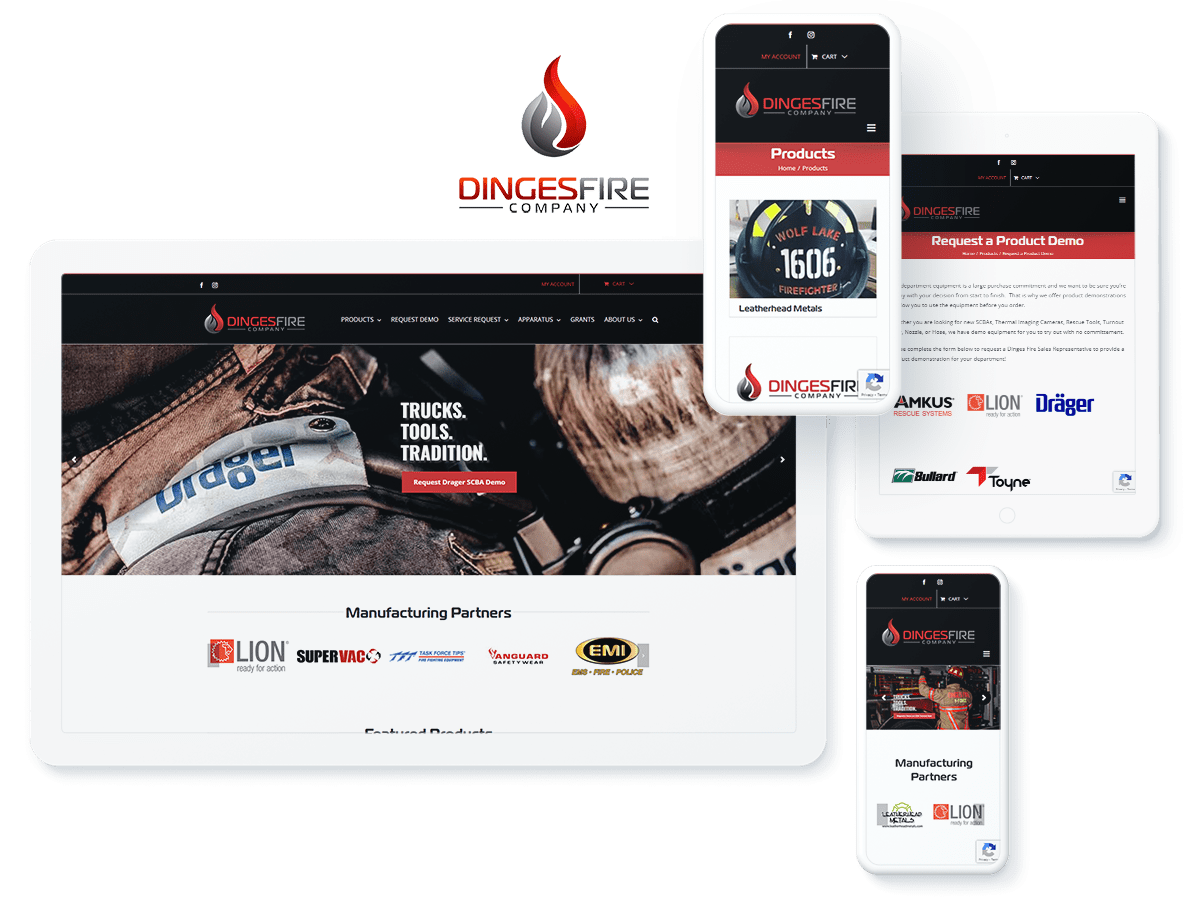 Solutions
To start, Americaneagle.com conducted competitive keyword analysis research in order to determine which keywords Dinges' competitors were ranking for. The team then identified new keywords to incorporate into page titles and headings to help increase search rankings for category pages (clothing and apparel, PPE gear, equipment and tools, etc.). Additionally, they created and implemented content for category pages to further attract visitors within Dinges' targeted keyword density.
Next, Americaneagle.com worked to develop Dinges' PPC strategy. The company is unique in the fact that it can only sell certain products in certain states, so the strategy needed to be carefully thought out and curated by location. To improve brand awareness, Americaneagle.com created geo-targeted display advertisements around FDIC International, an annual fire and rescue convention held in Indianapolis.
Lastly, Americaneagle.com performed a UX audit, and identified using Hotjar that Dinges' checkout experience was extremely antiquated. The previous checkout feature was slow and clunky which resulted in a majority of users dropping off within form fields. This led to a complete re-do of the checkout feature and functionality in order to bring it to today's standards.
Since partnering with Americaneagle.com, Dinges Fire Company has realized continuous organic growth each quarter. Through both the SEO and PPC strategies, the company has been able to increase brand awareness, and as a result, increase overall revenue.