American Society of Plumbing Engineers (ASPE)
Updated Website on New CMS for Improved User Experience
The American Society of Plumbing Engineers (ASPE) is the international organization for professionals skilled in the design, specification and inspection of plumbing systems. ASPE is dedicated to the advancement of the science of plumbing engineering, to the professional growth and advancement of its members and the health, welfare and safety of the public. ASPE disseminates technical data and information, sponsors activities that facilitate interaction, and expands the base of knowledge of the plumbing engineering industry.
Challenges
ASPE was interested in redeveloping its website and the way in which content was managed due to the previous site and platform becoming outdated on many levels. They were looking to provide a current website that users, including ASPE members, could more easily navigate. The society was in need of experienced web developers to implement a new Content Management System (CMS) that provides increased functionality, content organization, and improved user experience on both the front and back end. ASPE had worked with a number of web venders throughout the years, however these venders fell short in providing direction and guidance to the association.
Project
Platform
Expertise
Multi-Site Platform
Organizational Structure and Process Flow Mapping
Web & Application Development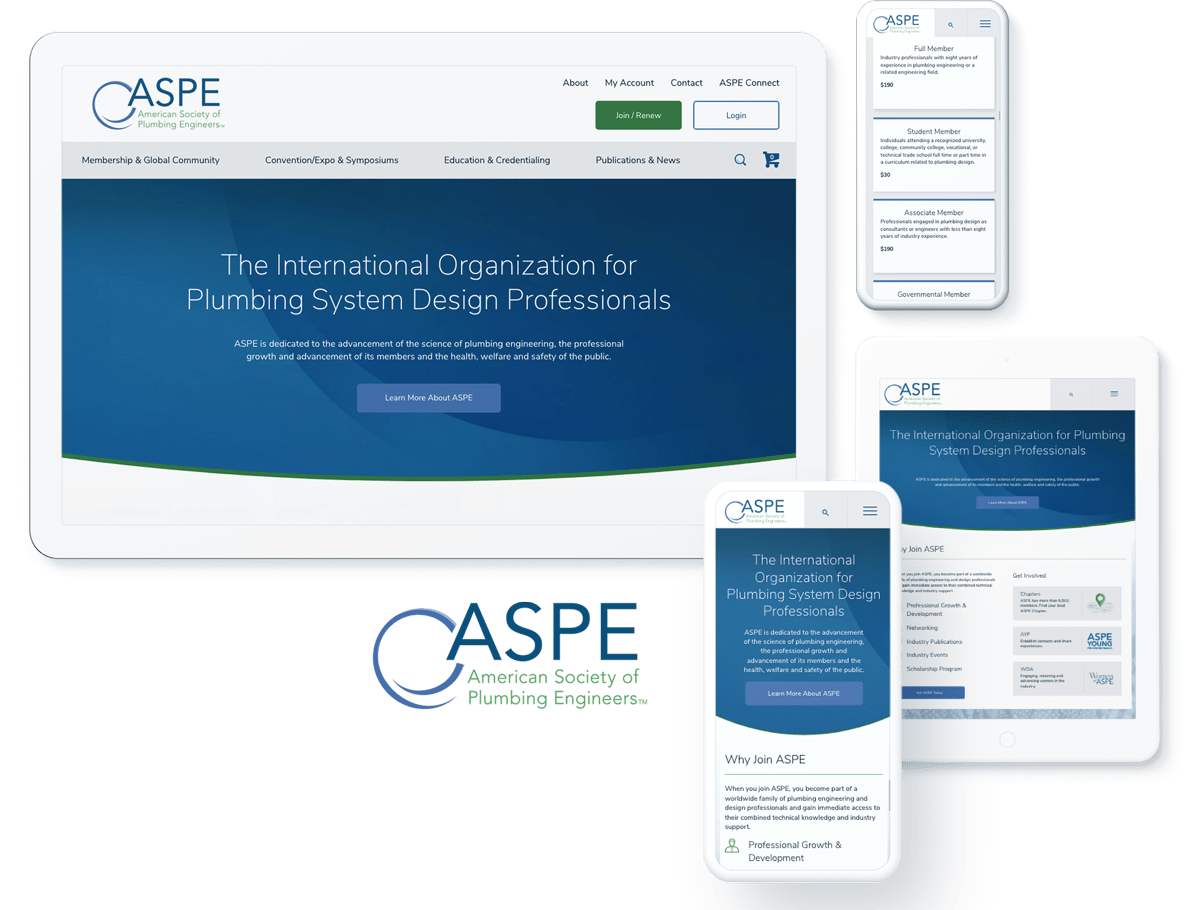 Solutions
ASPE came to Americaneagle.com because of their vast 25 years of experience building websites their client portfolio, including several associations, and WordPress expertise. The project began with an audit and extensive strategic planning phase to ensure that no detail was overlooked. In doing so, Americaneagle.com strategists rearchitected the ASPE site map including the website organization, identifying user flows, and assessing its content with the goal of ultimately generating more traffic.
Americaneagle.com continued into the development phase by redesigning the website on the WordPress platform with a more modern, sophisticated website focused on user-friendliness on both the front and back-end. The new look and intuitive design, driven by strategic efforts, were implemented to help users navigate the site. New features were included, such as, a multitiered member's portal to gate content and member pricing, ecommerce bookstore, interactive chapter map, donations, staff directory and more.
In addition to WordPress, ASPE wanted to onboard a new cloud-based community platform, Higher Logic, which was integrated by Americaneagle.com. This platform provides community management, SSO integration, and event services which creates connective opportunities for ASPE users. The new website now features a responsive design and is fully functional on mobile and tablet.
Since partnering with Americaneagle.com, ASPE has been able to enhance user navigation, manage their own content, and improve upon a number of features and integrations. Americaneagle.com is proud of this project and looks forward to further building the relationship with ASPE for future success.