Sitecore Consulting & Website Development
We are proud to be an original Sitecore development agency partner
As a Sitecore Platinum Implementation and Hosting Partner, Amercaneagle.com has the expertise to build robust, customer-rich experiences leveraging the platform's latest offerings and capabilities. For more than 10 years, we've been devoted to providing excellent Sitecore support and website development services, learning everything there is to know about its composable offerings. Blended with our extensive expertise in strategy, UX design, digital marketing, and more, we build end-to-end digital experiences that deliver meaningful results.
Americaneagle.com is the perfect Sitecore solution partner for the job. Contact us today to get started.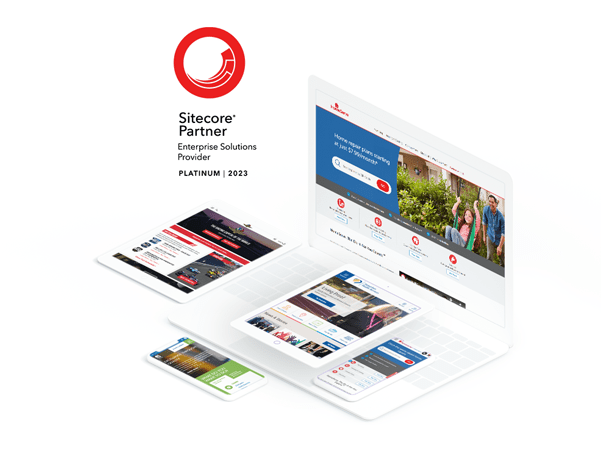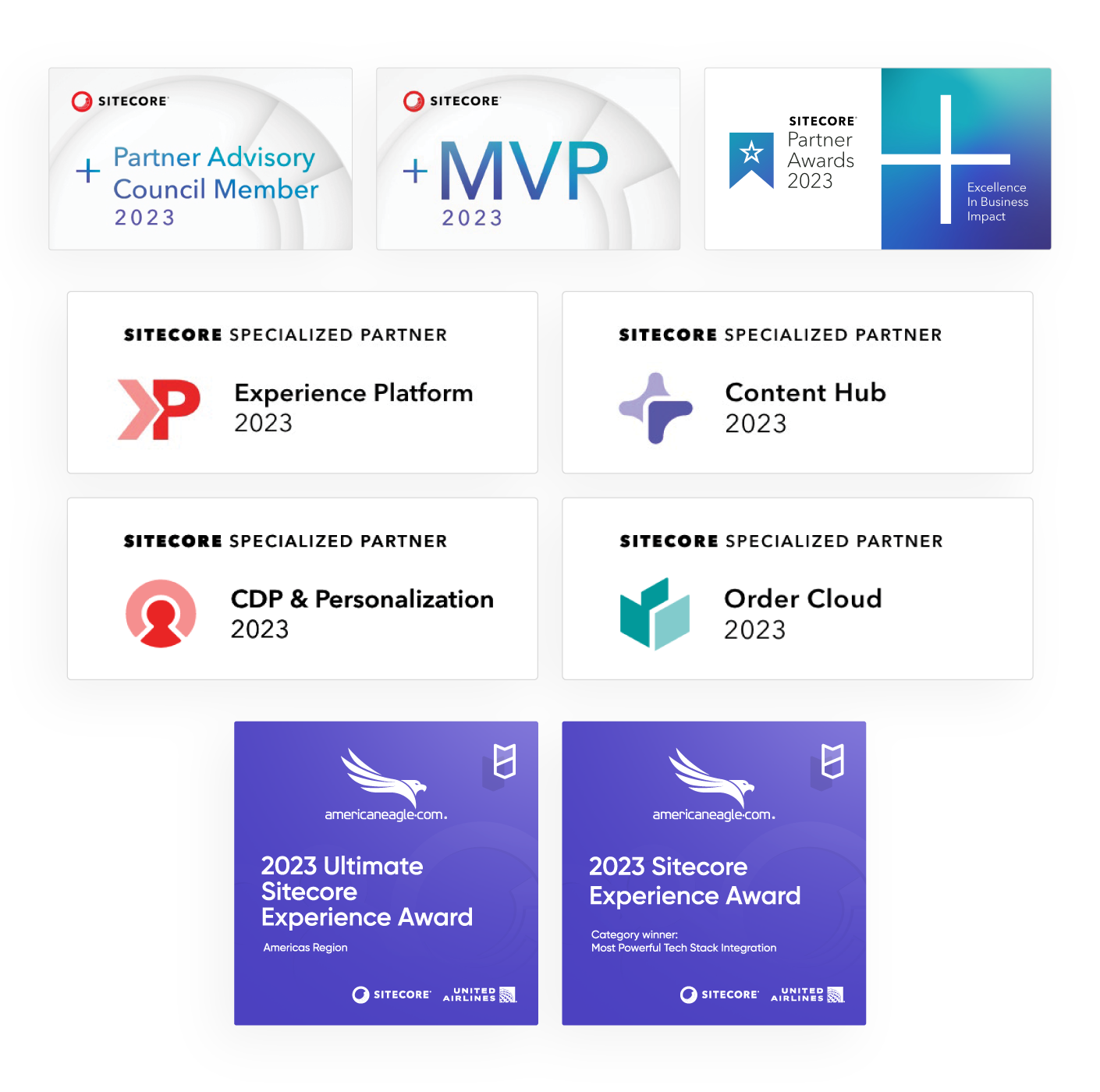 Sitecore
is a leading digital experience platform that provides seamless web content management and multichannel marketing automation software to users across the globe. Its composable technology enables powerful, unparalleled customer experiences. Harnessing the robust suite of powerful technologies, Americaneagle.com is a proud Sitecore development company.

Content Cloud
XM Cloud
Search
Content Hub
Engagement Cloud
Customer Data Platform (CDP)
Personalize
Send
Connect

Why Sitecore?
Our Sitecore expertise is unparalleled in the industry. We are proud to have worked with clients of all sizes, within many industries, with special emphasis on mid-market and enterprise customers. Our flexibility and decades of web design and development experience yield meaningful, measurable results for clients. With Americaneagle.com as your Sitecore development agency, you'll continuously provide customers with unforgettable digital experiences.
Our Sitecore Agency Services
Enterprise Implementations & Integrations
We have extensive experience with large scale, enterprise solutions and a portfolio of award-winning sites to show for it: Ranging from instances with 250+ sites to comprehensive personalized commerce experiences. Our team has experience bringing together hundreds of stakeholders and several lines of key business functions to develop a world class solution that meets customer needs and elevates business goals.
Ongoing Support & Managed Services
Our long-term partnerships ensure your success. We work with you to maintain your site after it launches, with round-the-clock, dedicated support to make sure your business goals are being met. With scalable support packages, you're free to focus on the things that keep your digital presence fresh.
Rescue Missions
50% of Americaneagle.com's current Sitecore clients started with another agency, looking for us to help them get the most out of their Sitecore solution. Whether you are in the middle of a Sitecore build that needs another set of eyes or takeover; or if you are live and experiencing limitations or performance issues, our consultants are here to help you get the most out of your Sitecore solution.
Sitecore Solution Audits
Over the past 10 years we have developed a robust solution audit process to help identify the areas that may be holding your solution back from being world class. Whether you are seeking actionable recommendations to optimize, or are looking for a comprehensive plan to refactor your solution, our consulting and audit services are tailored to your needs and interests.
Sitecore Version Upgrades
There are numerous approaches to take with an existing Sitecore solution on an older version of Sitecore. We have a proven audit process to help validate the best upgrade approach that works with your needs. Americaneagle.com offers comprehensive Sitecore Upgrade Services and Annual Upgrade Packages.
Sitecore Training
Get the knowledge and skills necessary to effectively use and maximize your technology investment with Sitecore. Allow our experts to teach you the foundations needed for successful customer engagements. We provide trainings for Content Authors, Marketers, and Developers. Americaneagle.com's experienced staff will show you the best way to leverage Sitecore's tools for every role within your organization.
Sitecore Hosting Services & Migrations
As one of the few Sitecore partners that owns their own data centers, our experience is unmatched when it comes to managing your hosted Sitecore solution. We are also Sitecore Managed Cloud Partners and are Microsoft Azure Gold Partners, providing managed services wherever you site is hosted.
Staff Augmentation
Our teams harness Sitecore's capabilities and can help your staff stay in sync with customer's ever-changing expectations and needs in the evolving world of technology. As an extension of your team, we are here to make sure you stay on the cutting edge by providing industry best full-service Sitecore management and support.
Experience Marketing Strategy
Experience Marketing tools such as A/B testing, Personalization, and Segmentation are included in this powerful offering. Our experts have been enabling Sitecore customers to get the most out of this tool suite, including proven ongoing strategic services.
5+ Yrs
Average tenure of Sitecore team member
500+
Sitecore Project Implementations
80+
Sitecore Certifications
25
MVPs over the last 6 years
Leading Sitecore Experts
As a top Sitecore partner, Americaneagle.com offers a variety of services to help you develop, deploy, and improve your website. We're one of the few agencies in the world that has achieved the coveted status of being certified in all five specializations, including Sitecore Experience Platform, Sitecore Experience Commerce, Sitecore Content Hub, Sitecore Order Cloud, and Sitecore CDP + Personalize. Learn more about our solutions offerings and contact us today to get started.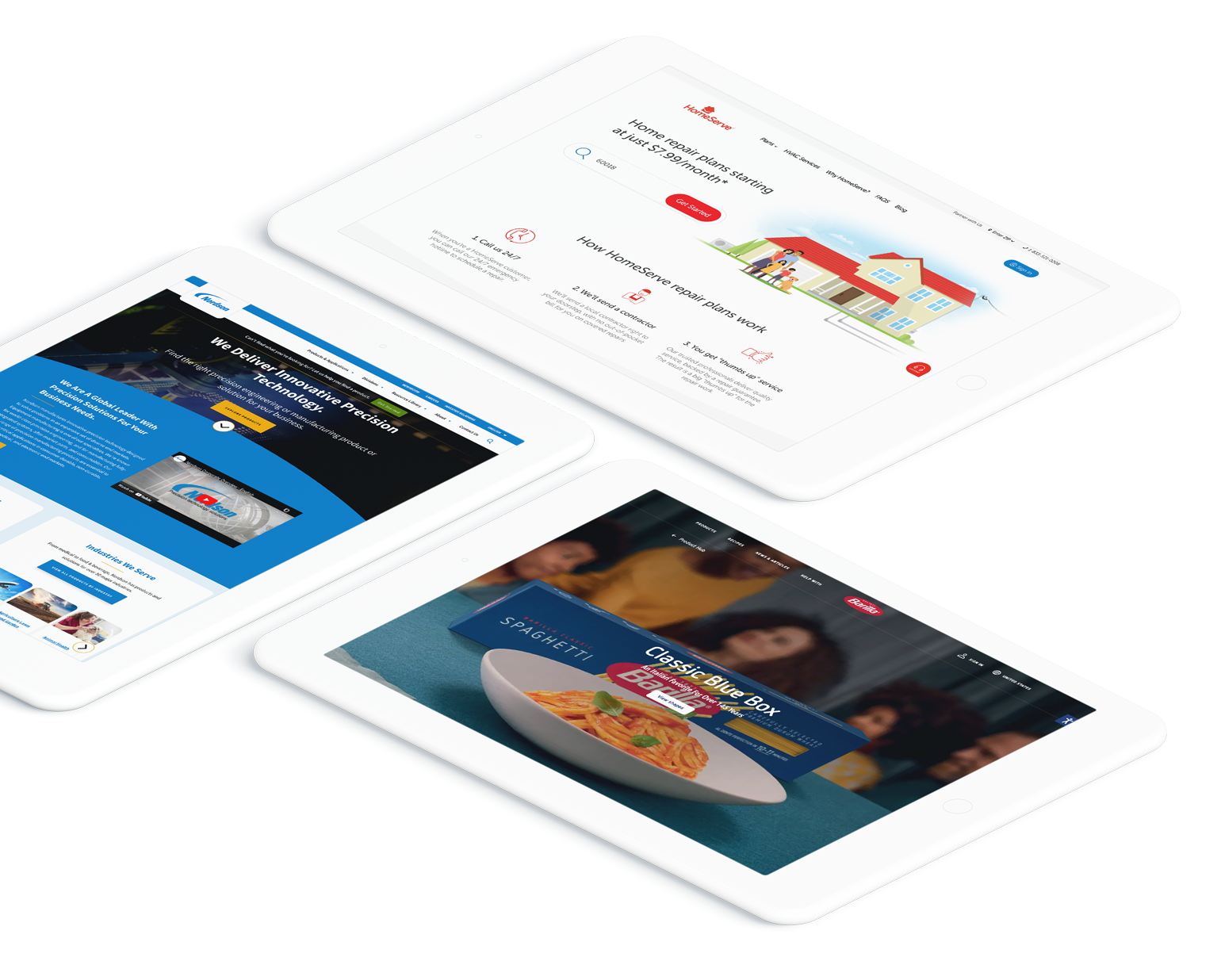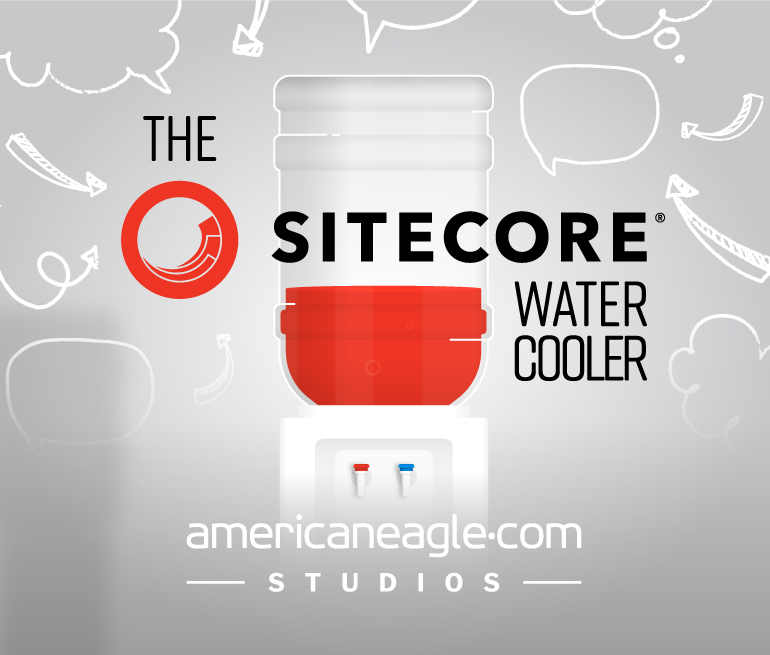 Introducing our NEW Dedicated Sitecore Podcast!
This podcast brings various Sitecore community members and industry experts together to have meaningful, yet laid back conversations about Sitecore product updates, full site builds, project suggestions & insights, getting the most out of a Sitecore investment, and more! Whether you're a new Sitecore user, a Sitecore MVP, or a digital guru looking to learn more, this Sitecore podcast is for you.
As a Sitecore web development partner, Americaneagle.com offers a range of services including enterprise implementations and integrations, rescue missions, ongoing support and managed services, solution audits, version upgrades, training, staff augmentation, hosting services and migrations, and so much more. We are a web development and digital marketing company that's completed over 500 Sitecore project implementations and earned 80+ Sitecore certifications.

Yes, Sitecore offers a wide variety of integration capabilities. It provides connectors and APIs to integrate with various systems such as ecommerce solutions, marketing automation tools, customer relationship management (CRM) platforms, social media platforms, and more. As a result, Sitecore solution partners are able to leverage their existing tech stacks and build seamless experiences across different systems.

As a Sitecore agency partner, Americaneagle.com provides a number of services to websites leveraging the platform. Some of the key Sitecore consulting services our team members provide include assisting with implementation, integration, customization, development, optimization, and more. Our Sitecore consultants play a critical role in maximizing the potential of your digital experience.

Yes, the platform is well-suited for large-scale enterprise websites. If partnered with an experienced Sitecore development agency, its robust and scalable architecture works seamlessly to handle enterprise websites' high traffic volumes and complex content management requirements. Sitecore's distributed architecture, load-balancing capabilities, and support for cloud deployments make it a viable choice for large enterprises. As a platinum Sitecore agency partner, we'll help you understand its nuances and whether it's a suitable platform for your enterprise needs.

Sitecore is designed to support omnichannel marketing strategies. It provides organizations with the ability to deliver consistent and personalized experiences across a variety of marketing channels, such as websites, mobile apps, email, social media, and more. Sitecore's marketing automation features enable the construction of campaigns across multiple touchpoints to more effectively engage visitors and customers. Americaneagle.com is a web design and digital marketing agency and as part of our Sitecore professional services, we'll help you utilize its marketing capabilities to the fullest.
"The Knowledge and Publication Workgroup was receiving multiple calls, emails and IMs per day from Customer Care reps with questions from customers about whether we sold something. After the Coveo implementation and custom search page designs completed by Americaneagle.com, those questions / requests dropped nearly to zero."

"We strive to deliver a patient-first experience, enabling us to deliver individualized experiences for our partners, patients, and community. Working alongside our implementation partner Americaneagle.com for our Sitecore-powered digital transformation has proven to be a valuable strategic decision for our organization."

"Americaneagle.com developed a solution for us that will make it easy for consumers to gather information about purchasing our products. The integration with Salesforce will help us maintain a high level of engagement with our customers."
;
Americaneagle.com is thrilled to announce that it has received a 2023 Sitecore Experience Award (SEA) in the Americas region for its wo... Read More

Sitecore's Symposium event will now happen every other year, and the Sitecore DX series will occur in its absence. Explore this page to... Read More

Sitecore XM Cloud offers a highly sophisticated and flexible content management system (CMS) that allows businesses to easily create, m... Read More
---
Company name is required.
Email address is required.
Phone number is required.
Please use 250 characters or less.