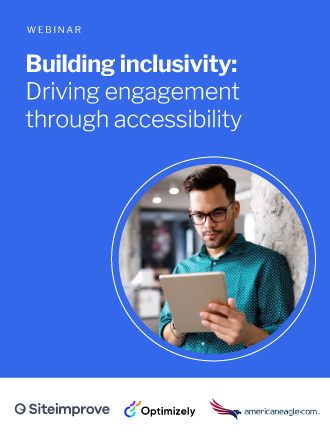 The power of the web is universal, it can be accessed by everyone regardless of disability. Accessibility matters on every level, it should not be an afterthought or as a quick fix, but rather it should be integrated from the design and development stage and embedded into your organization as an ongoing process.
Download this webinar to hear insights from Siteimprove, Optimizely and Americaneagle.com on the perks and pitfalls of embedding accessibility into your organization (and how to set yourself up for success).
Webinar Speakers:
Inka Ilona Taagehøj - Accessibility Product Expert at Siteimprove
Accessibility product expert and trainer, helping organizations to successfully implement accessibility monitoring and automated testing. Working in accessibility product team in Research and Development, to ensure success on strategic initiatives. Passionate about inclusive design, accessibility culture and business benefits of inclusion.
Nick Goodrum - Director of Front-End Development and Accessibility at Americaneagle.com
Nick Goodrum has been working in the front-end development world for over ten years growing and improving his code with modern techniques and best practices. During that journey, he found a deep passion for usability and accessibility. At Americaneagle.com, which is a full-service digital agency that handles many solutions including Siteimprove, he grew into the position of Director of Front-End Development and Accessibility. In that role he is a strong advocate of making accessibility a normality rather than an afterthought to developers, clients, and beyond.
Deane Barker - Global Director of Content Management at Optimizely.
Deane Barker has been working in content management for 25 years and has written four books about the patterns and practices of modeling, creating, managing, and delivering digital content, including "Web Content Management: Systems, Features, and Best Practices" for O'Reilly Media, and the "Web Project Guide: From Spark to Launch and Beyond," published in Summer 2021.