In this episode of the Sitecore Water Cooler podcast, we dive into Netlify's role in the Sitecore ecosystem. Hosted by Jon Price, Global Sitecore Practice Director and Sitecore MVP at Americaneagle.com, this conversation explores Netlify's contributions to composable web experiences. Conrad McDougall, Senior Agency Partner Manager, and Jonathan Cipriano, Lead Partner Engineer at Netlify, join the discussion to shed light on their partnership with Sitecore. With years of collaboration between these experts, this episode provides valuable insights into the evolving landscape of web development and the role Netlify plays in it.
Introducing Conrad McDougall
Conrad McDougall, a key player at Netlify, holds a pivotal role within the partnerships team. His daily mission involves a dual focus on both tactical and strategic levels, where he collaborates closely with agency and solution partners. Conrad ensures that these partners fully grasp Netlify's value proposition and its broader vision for driving success in web solutions. He actively engages in tasks like handling RFPs and teaming up with solution partners to navigate sales, particularly within the Sitecore ecosystem. Despite being relatively new to Netlify, Conrad's dedication and passion for this domain have fueled his rewarding journey.
Introducing Jonathan Cipriano
Jonathan Cipriano, a vital figure within Netlify, leads partner engineering and operates within the partnerships team with a focus on technology partnerships. His role bridges the gap between business partnerships and product and engineering teams. Jonathan's daily activities involve collaborating with both internal product managers and engineers at Netlify and external partners, including content management system (CMS) and ecommerce databases. He plays a crucial role in guiding partners on building seamless integrations and co-developing software solutions across platforms. Although he joined Netlify in February, Jonathan's extensive background in frontend development, gained from his time in digital ad agencies, adds invaluable expertise to the team.
What is Netlify?
Netlify, a company with roots dating back to 2014, has undergone a fascinating evolution in the web development landscape. Initially recognized for providing a development platform for building and hosting frontend solutions, Netlify has evolved to empower developers in the composable space. Its mission centers on enabling developers to build and deploy frontend solutions seamlessly. Notably, Netlify boasts integrations with a multitude of CMS vendors, including Contentful, Content Stack, and Sitecore, aligning with the growing trend of composable architecture. The company's leadership has been pivotal in driving the shift to composable solutions, coining the term "Jamstack" and fostering innovation within the web development sphere. Recent acquisitions, like Gatsby and STACK, underscore Netlify's commitment to advancing the future of web development.
Netlify Functions & Benefits to Users
Netlify takes pride in its openness to a wide array of technologies, making it a versatile choice for developers. While it maintains and prioritizes frameworks like Next.js and React, its overarching philosophy is one of true composability. Netlify strives to accommodate developers using any tooling, platform, framework, or library that suits their project needs. With a dedicated solution engineering team, they engage with customers to understand project goals and offer tailored recommendations. This flexibility positions Netlify as an ideal partner for those seeking a technology-agnostic approach, enabling developers and businesses to harness the tools that best align with their unique requirements.
Netlify & its Role in the Sitecore Ecosystem
Netlify's journey with Sitecore has deep roots, marked by a recent official partnership announcement. Conrad, deeply entrenched in the Sitecore world as an MVP, played a crucial role in shaping Netlify's approach to the Sitecore ecosystem. The partnership began taking shape in the spring, culminating in strategic discussions with Sitecore's leadership, including CEO Steve Tzikakis. Netlify's expertise in the composable space, coupled with its thought leadership, fueled this collaboration. They've been actively engaged in educating and assisting Sitecore clients on the value of composable solutions. With integrations and successful client partnerships, Netlify's presence in the Sitecore ecosystem is set to expand significantly.
Technical Advancements with Sitecore & Netlify
In the realm of technical advancements with Sitecore and Netlify, the focus is squarely on enhancing the developer experience. Netlify's goal is to streamline the process of building and deploying Sitecore websites on its platform. This involves meticulous documentation, rigorous testing of Sitecore's developer tooling on Netlify, and the pursuit of compatibility and ease of use. The overarching mission is to lower barriers for developers, simplifying the integration process between the two platforms. Jonathan emphasizes the importance of making a positive first impression on developers, ensuring that their initial interaction with the integration is seamless. This approach aims to foster a productive and hassle-free experience for developers working with Sitecore and Netlify.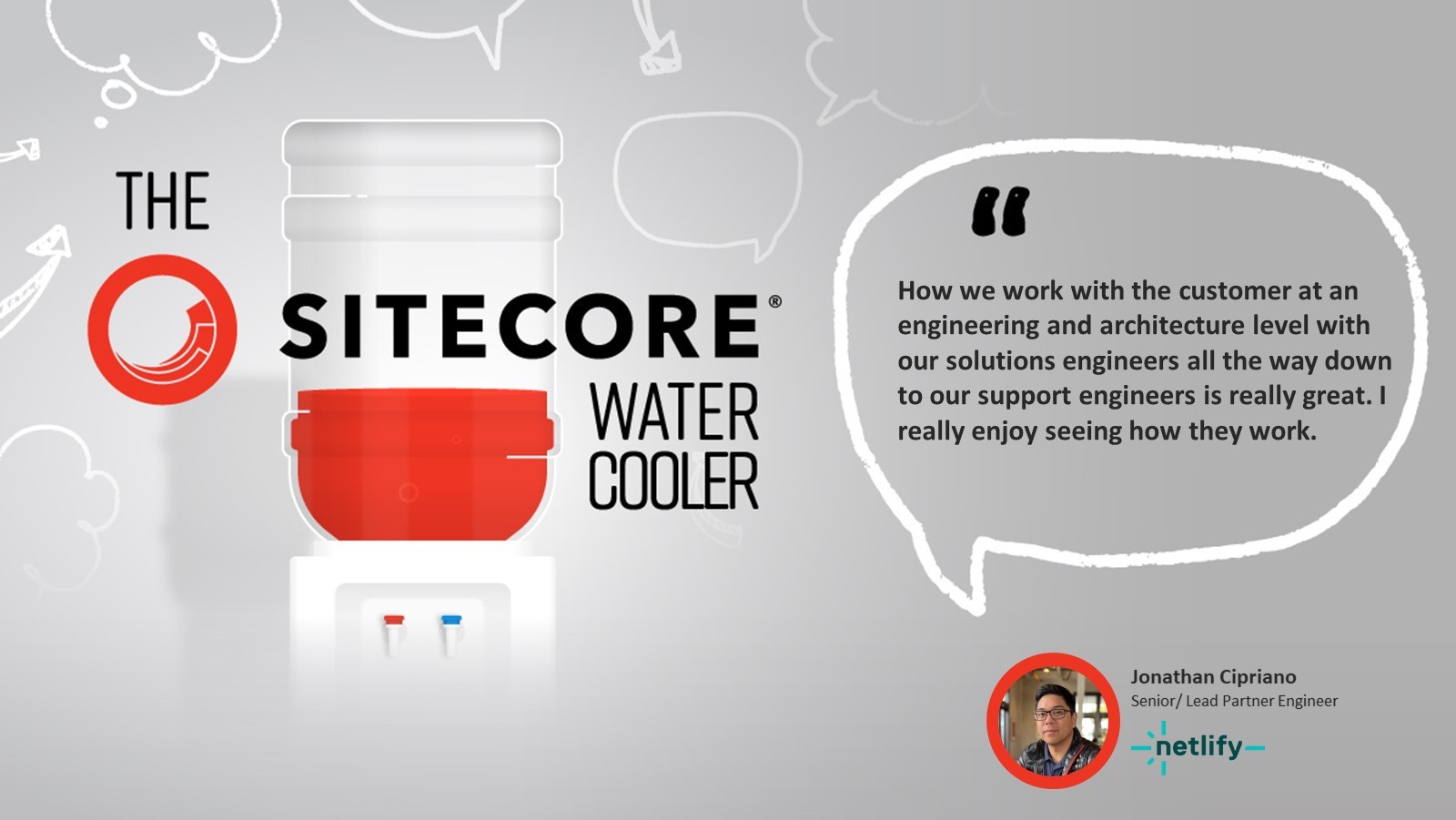 Netlify's Competitive Advantages and Differentiators
Netlify's competitive edge in the composable space is driven by a multifaceted approach. They prioritize client-centricity and offer a unique blend of strengths that distinguishes the platform from competitors. Netlify excels in providing white-glove support throughout the client journey, from initial engagement to post-sale. The support extends beyond typical technical troubleshooting, encompassing enterprise-level challenges faced by organizations. The platform focuses on elevating discussions to address broader organizational growth plans over several years. Netlify's adaptability and commitment to customer success resonate with enterprises in the midst of digital transformations. This holistic approach positions Netlify as a strategic partner rather than a mere technology vendor, setting them apart in a crowded field of options.
Netlify's Technical Advantages
Netlify's technical differentiation lies in its comprehensive approach to problem-solving. While its feature set and security measures stand out, the true competitive edge comes from the framework agnosticism, accommodating a diverse range of frameworks. Beyond features, Netlify excels in customer engagement, especially at the engineering and architecture levels. Solutions engineers actively tailor load testing plans and offer personalized guidance to address client objectives. This hands-on approach extends to partnerships, exemplified by its readiness to collaborate with external solution providers for seamless integrations. Netlify's deep technical engagement and flexibility cater to the distinct needs of enterprise clients, setting them apart in the market.
Advice for Transitioning to Composable Architecture
When transitioning to a composable architecture, it's crucial to conduct thorough research and maintain an opinionated stance. The composable landscape is burgeoning, with a multitude of options, making it easy to get overwhelmed. Agencies should scrutinize various solutions and evaluate their alignment with specific client needs. Engaging in conversations with industry peers and vendors, like those in the Jamstack Alliance, can provide valuable insights. However, don't anticipate an immediate transformation; comprehensive due diligence takes time but ensures informed decisions. Netlify's agility and support can expedite project timelines, but the right choice requires patience and careful assessment of all available options.
Advice from a Technical Perspective
When considering Netlify within a composable architecture, developers should stay open-minded and be prepared to embrace a developer philosophy. Comprehensive research and understanding the value proposition are key. While some developers may be inclined to stick with their existing workflows, the benefits of adopting a composable approach, like Netlify, are substantial. Large organizations, in particular, should ensure buy-in from engineering and marketing leaders to facilitate smooth adoption. Emphasizing education and alignment across the organization is paramount. Once this foundation is established, developers can explore the technical intricacies and best practices of integrating Netlify into their composable architecture.
Netlify Customer Use Cases
Netlify has seen remarkable success stories in its customer use cases, highlighting the platform's profound impact. Notably, Riot Games, a giant in the gaming industry, embraced a composable strategy with Netlify, leading to substantial improvements. These achievements include a dramatic reduction in website build times, from 15-25 minutes to a mere 3-5 minutes, a shift from 2-3-week release schedules to under three days, and a 65% decrease in bandwidth usage. Riot Games' senior web developer praised Netlify for its developer-focused approach, deep collaboration, and passion for user-centric solutions, solidifying the partnership's success. These outcomes exemplify Netlify's capacity to transform web development and foster exceptional customer experiences.
Technical Use Cases
Netlify's technical prowess shines in its collaborative ventures, as exemplified by a major Swiss insurance company's recent engagement with Sitecore on the Netlify platform. Faced with challenges during deployment, Netlify engineers jumped into action. They seamlessly collaborated with Sitecore to identify and resolve technical issues. This hands-on approach and swift problem-solving not only delighted the customer but also fostered a robust Sitecore and Netlify partnership. The case demonstrates Netlify's commitment to providing exemplary technical support and its dedication to continuously enhancing the deployment process, further solidifying its reputation as a technical leader in the industry.
Integrate Netlify with Sitecore to Enhance Web Development
In this insightful discussion, we explored the dynamic synergy between Sitecore and Netlify, two industry leaders in web development. Netlify's technical excellence and robust features offer a seamless integration with Sitecore, empowering developers and businesses to create outstanding web experiences. We've learned from real-world examples, including Riot Games' remarkable success and a Swiss insurance company's deployment journey, showcasing the power of this partnership. Whether you seek technical prowess, composable architecture, or a streamlined development process, the combination of Sitecore and Netlify opens doors to endless possibilities. Don't miss the chance to elevate your web projects with this winning duo.
Listen to the Sitecore Water Cooler Podcast Today!
Start listening on Apple Podcasts, Spotify, or wherever you get your podcasts. You can also watch the podcast taped in the Americaneagle.com Studios on YouTube.
To read the transcript/captions of this episode, click "CC" within the YouTube video.
Connect with:

This podcast is brought to you by Americaneagle.com Studios.
About: For years, 'water cooler talk' has been a natural way for people in the workplace to come together and connect on common interest topics in what would otherwise be a formal environment; it boosts morale, improves culture and gets the creative juices flowing! Some of the best workplace ideas and conversations happen through face-to-face conversations around the 'water cooler,' so just as the name implies, The Sitecore Water cooler Podcast is a casual conversation between colleagues and peers centered around all things Sitecore. This podcast is an outlet for various Sitecore experts within the Sitecore community to have a meaningful discussion around the latest with Sitecore products, every day topics, challenges and successes associated with this top-of-line digital experience platform. Each podcast episode will range in topic, but will be geared towards quick-hitting initiatives that affect how business is done today. Whether you're a new Sitecore user, a Sitecore MVP, or just someone who wants to learn more about Sitecore technology and capabilities, then meet us at the watercooler!
---
About Author
---