When a business-to-business (B2B) customer comes to a manufacturer or distributor's website, they're visiting with the intent to solve a business problem. Unlike business-to-consumer (B2C), B2B buyers don't typically stumble on a website and find a product to purchase right then and there. They're on your website because it's their job and they need an exact product to help them do it.

Is your website integrated with the right third-party tools to ensure your customers are finding exactly what they need to do their jobs?

While a site search tool is a key method for helping buyers find the right products, the foundation of good search is often overlooked – a great search experience is powered by efficient product information management (PIM).
What is PIM?
Product information management, also known as PIM, is a software solution that helps businesses manage and enrich product information and related digital assets across various teams to provide an efficient and engaging product experience, as well as successfully sell the product across multiple marketing and sales channels.

PIM is a master data-fueled, process-driven tool that serves as a business's single source of truth for collecting, managing, governing, and enriching product information and content, and distributing it through sales, marketing, and ecommerce channels.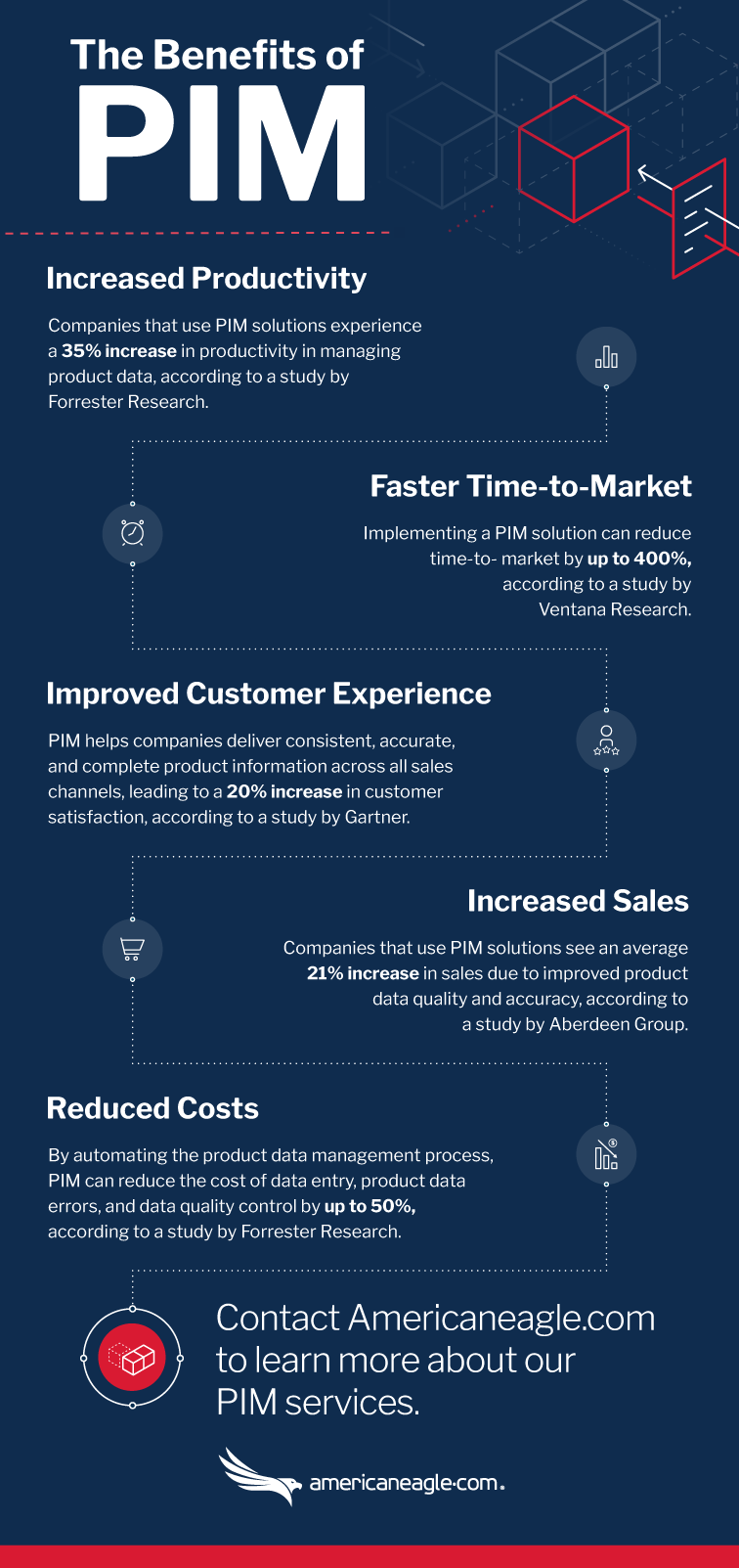 PIM for Manufacturing Companies
Manufacturers now face significantly higher expectations, particularly in regard to minimizing time-to-market. As a result, the manufacturing industry is undergoing a transformation driven by digitalization and more intelligent data management, which aims to unify fragmented data and enhance the quality of the product.
Over the last few years, the manufacturing industry has taken a newer, more dynamic approach with product innovations, changing market conditions, and increased customer expectations. Companies are working diligently to accelerate growth, increase the product value chain, and provide enhanced customer experiences across the board. As a result, the digitalization of products, services, and processes have become a critical component for successful operation – which is exactly where PIM solutions come into play.
What Challenges Does PIM Help Solve for Manufacturers?
Manufacturers solve several problems related to managing and showcasing their products digitally to customers.

One of the main challenges is the sheer amount of product data that needs to be collected, organized, and updated. Manufacturers can streamline this process with PIM by consolidating product information from various sources into a single database. This allows them to easily manage product descriptions, specifications, images, and other relevant information in one place, ensuring accuracy and consistency across all channels.

Another problem that PIM solves for manufacturers is the need to meet the requirements of multiple sales channels. With PIM, manufacturers can customize and optimize their product data for each sales channel, whether it be an ecommerce platform, a distributor portal, or a marketplace. This ensures that their products are represented accurately and attractively on each channel, increasing the chances of making a sale. Additionally, PIM enables manufacturers to quickly respond to changing market conditions by updating product information across all channels in real time, improving their agility and competitiveness in the digital space.
How Manufacturers Can Use PIM to Improve Their Business
PIM provides a number of use cases for manufacturers to improve their business processes. Here are four:
Scalability and Accuracy
Having authority over data enhances the capacity to expand into different territories and incorporate fresh vendors, collaborators, and currencies. Additionally, it allows manufacturers to introduce product data properties in various languages.
Precise product information can establish the most optimal connections between companies and suppliers, particularly in the realm of remote collaboration (a direction we are moving toward). Besides bolstering collaboration, it fosters the trust and allegiance of vendors.
Agility and Adaptability
Flexibility, particularly in times of emergency, inspires opportunities to seek out fresh possibilities. One such possibility is enabling distributors or retailers to collaborate more effectively and improve efficiency by eliminating manual ordering.
Cutting-edge technologies can assist companies in becoming more versatile in response to the evolving conditions of a post-pandemic world, by promoting customized engagement, reliability, and seamless communication.
ROI and Time to Market
Implementing an innovative data management strategy will enhance collaboration between different departments and digitally fortify the business, leading to more sound investments and stronger relationships with partners. Moreover, it simplifies processes, thereby promoting business continuity and a favorable ROI.
A product information management system guarantees greater flexibility in terms of catering to multiple markets, languages, and channels. Combined with automated workflows and minimal data inconsistencies, this significantly reduces time to market.
Collect and Share Real-Time Data
Manufacturers acquire information about their products from various sources, both inside and outside their organization, including aggregators and third-party providers.
Therefore, they need to exercise control over their data to reduce duplication and expedite synchronization. Similarly, by sharing data from a centralized product repository, vendors and partners can gain immediate access to all the latest data updates, significantly enhancing their processes and workflows.
Contact Americaneagle.com to Learn More About Our PIM Services
In conclusion, product content and data are critical for manufacturers in the B2B ecommerce space. Accurate and comprehensive product information can help customers make informed purchasing decisions while reducing the risk of safety or legal issues. By prioritizing the management, publishing, and presentation of product content and data, manufacturers can build trust with customers and stay competitive in the digital marketplace.
Written in collaboration with Salsify
Salsify, an Americaneagle.com partner, helps thousands of brand manufacturers, distributors, and retailers in over 140 countries collaborate to win on the digital shelf. The company's Product Experience Management (PXM) platform enables organizations to centralize all of their product content, connect to the commerce ecosystem, and automate business processes in order to deliver the best possible product experiences across every selling destination.

Learn how the world's largest brands, including Mars, L'Oreal, Coca-Cola, Bosch, and GSK, as well as retailers and distributors such as DoorDash, E.Leclerc, Carrefour, Metro, and Intermarché, use Salsify every day to drive efficiency, power growth, and lead the digital shelf. For more information, please visit: www.salsify.com.
Author bio:
Justin King is currently the Chief Evangelist and VP of B2B Strategy at Salsify. He's also the author of "Digital Branch Secrets," the playbook used by many B2B manufacturers and distributors to build their digital strategy. King is an expert and thought leader in B2B ecommerce.
---
About Author
---