Historically, manufacturing has not been a digitally-focused industry. In the world of manufacturing, companies commonly prioritize traditional offline marketing methods such as tradeshows and advertising in industry publications, often neglecting their online presence. These days, as Bob Dylan would say, "the times they are a-changin."
Today, a manufacturing website is a must and it needs to do more than just provide information about the company and contact details. It should also be well-designed and help generate profits. A well-designed manufacturing website needs to have a simple and straightforward process for potential customers to select products or services.
Americaneagle.com understands the challenges that manufacturing companies face when it comes to their online presence. Being able to work with all kinds of catalog sizes, along with faceted search and API integrations, are a must for any modern online B2B shopping experience. Optimized ecommerce for wholesalers and manufacturers is a staple with the BigCommerce platform.
As a BigCommerce Elite Partner and Omnichannel Certified Partner, we have demonstrated a superior level of knowledge and success in developing BigCommerce websites. We create and maintain customer relationships with innovative design and user-friendly tools for B2B success. Americaneagle.com is also BigCommerce BigDev Certified, meaning our development team has undergone a rigorous, multicourse bootcamp that tested our knowledge of the BigCommerce platform. Our website design and development services are crucial for the success of leading manufacturers and distributors. Check out our BigCommerce development services if you're in need of a world-class, high-performing website.
Why BigCommerce for Manufacturing Websites?
Integrated B2B and Wholesale Features
For intuitive management of B2B ecommerce, BigCommerce offers specialized tools such as customer groups and options for buyers, tiered pricing, bulk pricing discounts, and the ability to handle large orders. In addition, you can create corporate accounts that offer personalized pricing options, reorder options, special pricing, discounts, quotes, and more. These tools are essential for manufacturers selling to retailers or distributors.
Scalability and Robust Infrastructure
BigCommerce can scale with your manufacturing business as it grows, allowing you to easily add storefronts, regions, and channels from one platform. It can also handle increased product ranges, higher traffic, and more complex transactional requirements without the need for major changes to your digital infrastructure. The platform offers the perfect balance of scalability, flexibility, and openness. With it, you have the power to make changes and implement them instantly, exactly when you need to.
ERP and Inventory Integration
Integrating with ERP systems is a necessity for manufacturers to ensure a smooth connection between their e-commerce platform and production, inventory, and supply chain management systems. By doing so, manual work and the risk of errors are minimized. Enhance your e-procurement systems by integrating BigCommerce with your product information management system and seamlessly connect and synchronize reliable and precise product data across all platforms.
BigCommerce Manufacturing Website Designs by Americaneagle.com
At Americaneagle.com, our team of nearly 100 skilled BigCommerce developers empowers us to deliver impactful, innovative solutions for manufacturing companies. We have vast experience working with major ERP, CRM, and POS systems, and have successfully built and customized numerous APIs and connectors across various platforms. For any B2B company with complex ecommerce requirements, we are well-equipped to handle your needs. With our expertise in BigCommerce ecommerce development, combined with our top-notch design and support services, we help position your business for success.
We have successfully implemented BigCommerce for many manufacturers, including:
Berlin Packaging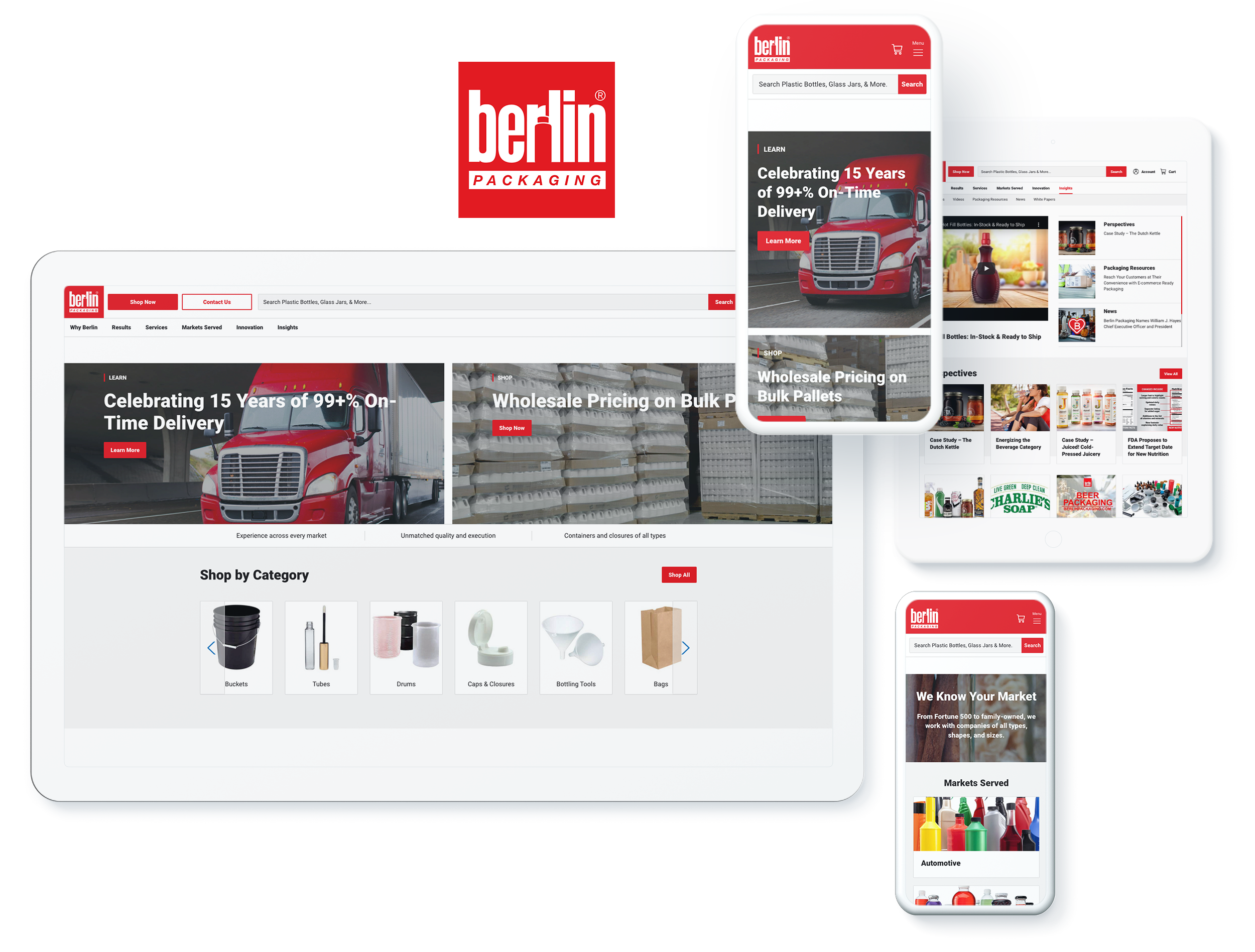 Berlin Packaging wanted to transform their ecommerce presence with an updated website and better functionality. Their previous website did not handle a large product line. We implemented an enhanced shopping cart experience that features a standard page for regular purchases and a "quote cart" function for personalized pricing. Our team also integrated a powerful onsite search tool for improved product search, navigation, and recommendations. The advanced functionality streamlines the B2B buying process and the Americaneagle.com team revolutionized Berlin Packaging's online shopping experience with a sleek interface, easy navigation, and custom integrations. Customers can now easily browse and purchase any of the 40,000+ products available.
Klogs Footwear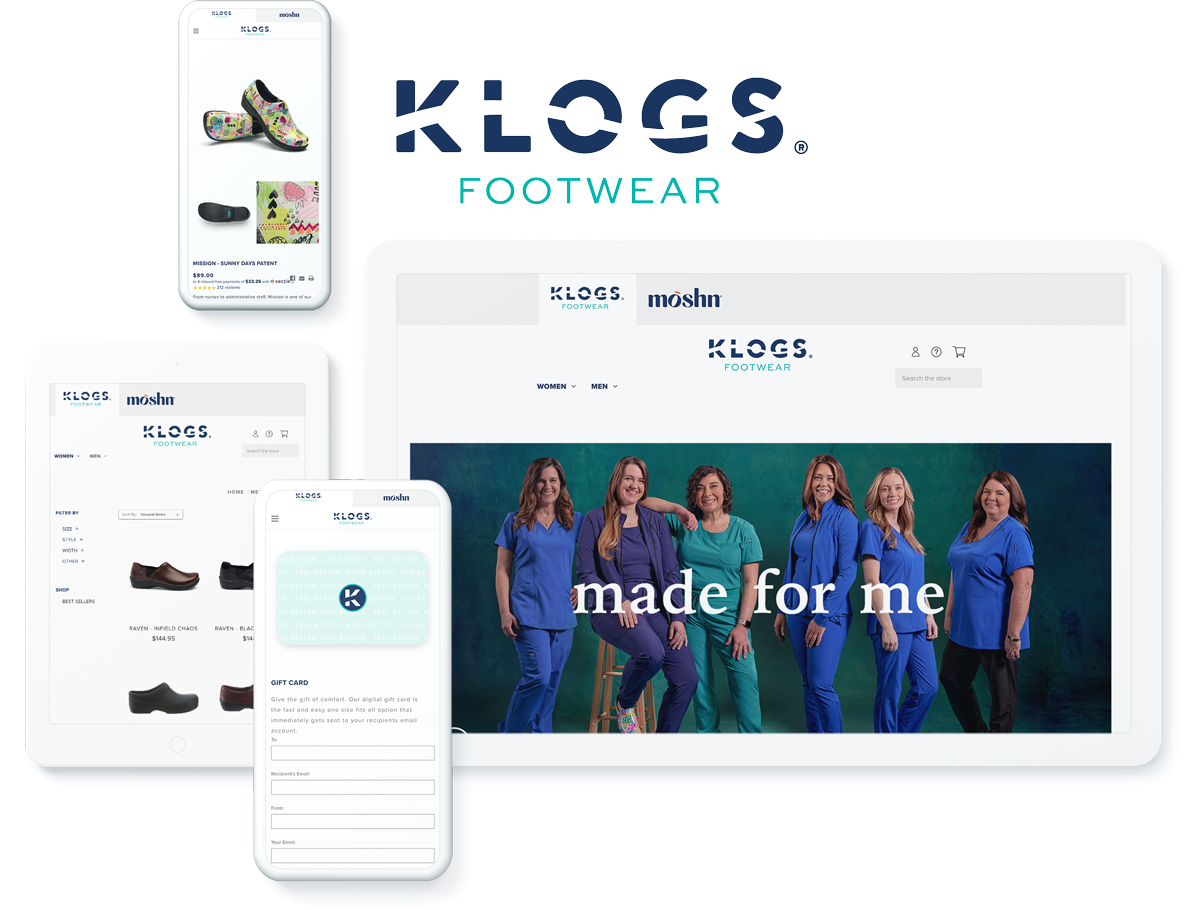 Due to internal restructuring, Klogs Footwear experienced dismal digital marketing results. This led to a stagnant online presence and a decline in brand awareness, traffic, and conversions. To rectify this, Klogs initially hired a consultant but soon recognized the need for an experienced full-service digital agency to truly make progress and achieve their goals. Klogs and Americaneagle.com joined forces to revamp and boost Klogs' digital marketing strategy. The collaboration started with consulting sessions and extensive audits, including an examination of Google Ads, Google Merchant Center, and data consistency, to identify areas for improvement. Americaneagle.com also performed technical and content audits to identify issues that needed to be resolved for better SEO. Additionally, a thorough evaluation of Klogs' Facebook and Instagram accounts was conducted to assess their social media presence. By conducting digital marketing audits and making necessary improvements, the shoe retailer now has control over their marketing efforts and is seeing excellent results.
Remington Industries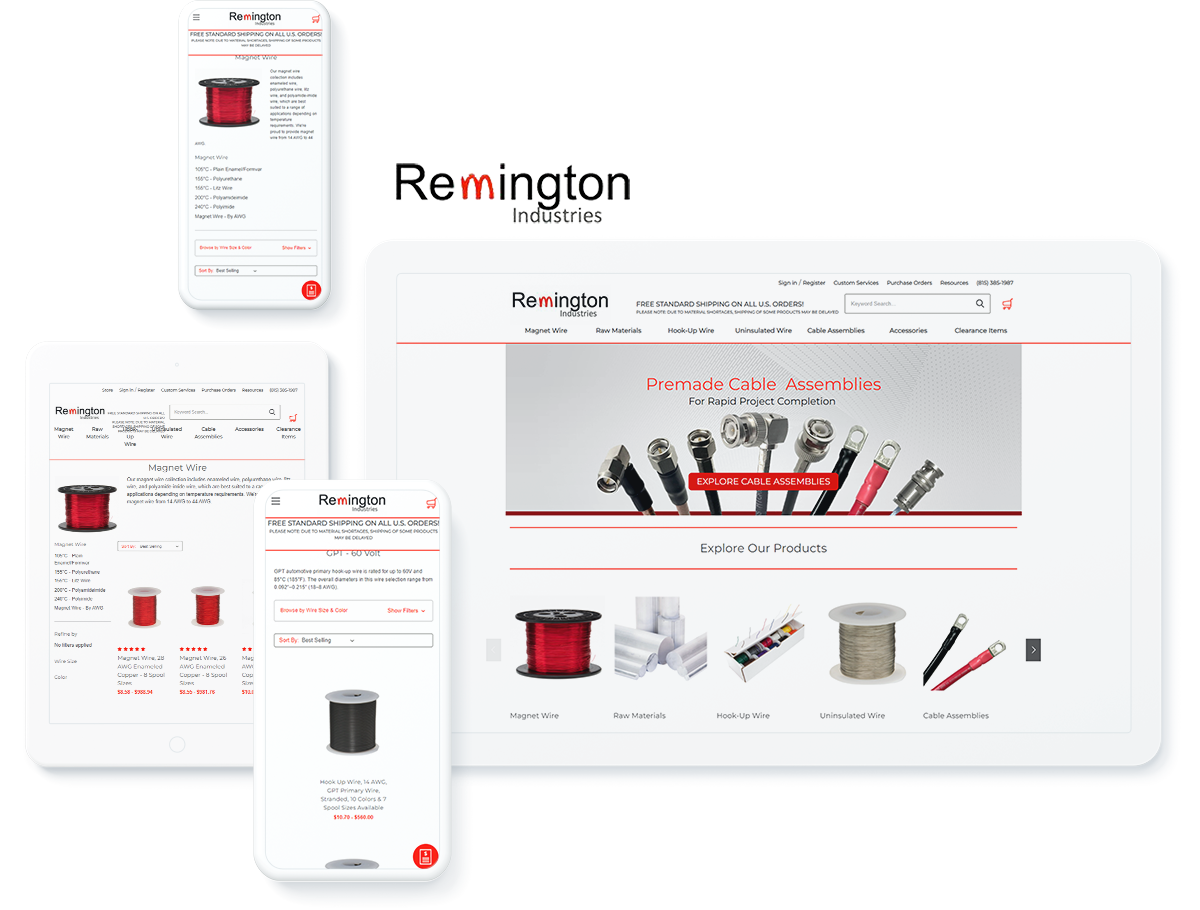 Remington Industries needed a total revamp of their website. Despite having ecommerce sales on platforms like Ebay and Amazon, they struggled to attract customers to their own website due to poor search engine rankings and they needed to boost traffic, transactions, and revenue. Remington Industries partnered with Americaneagle.com's digital marketing team to enhance their online visibility, search engine rankings, and direct ecommerce sales. Our dedicated digital marketing team created a needs assessment for the new website and develop a customized marketing strategy to achieve specific goals. To improve rankings, an SEO roadmap was created with strategic keywords, effective title tags, and relevant content. New email marketing templates were designed to align with the website's new look and feel and a content calendar was created to provide valuable information to interested web visitors on a regular basis.
RDO Equipment CO.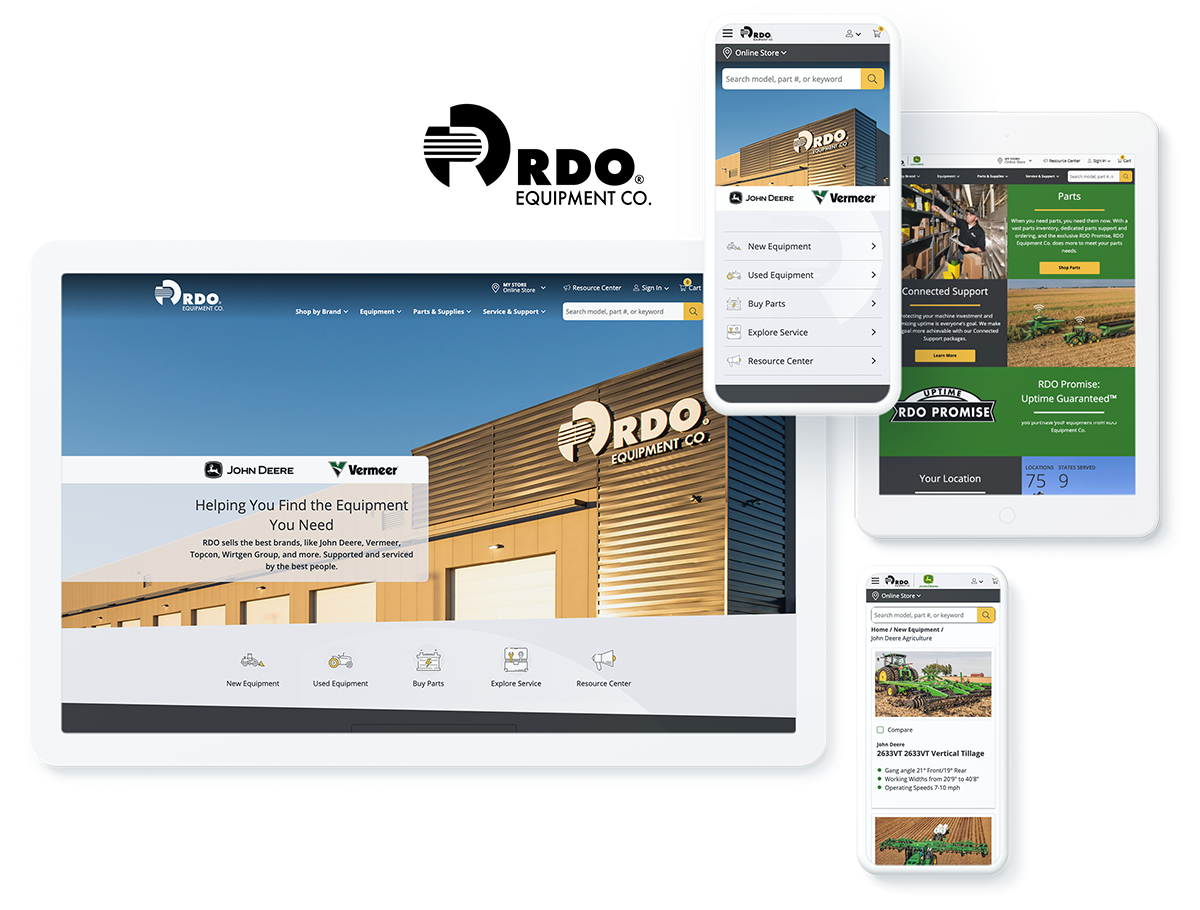 RDO Equipment Co. chose Americaneagle.com for their extensive experience in implementing a range of digital solutions. The project involved a complete digital transformation, replacing their outdated site with a powerful, all-in-one ecommerce and content platform. By combining Sitefinity and BigCommerce, RDO's web presence has been fully optimized. Americaneagle.com implemented several strategic initiatives to achieve this.
John M Ellsworth Company, Inc.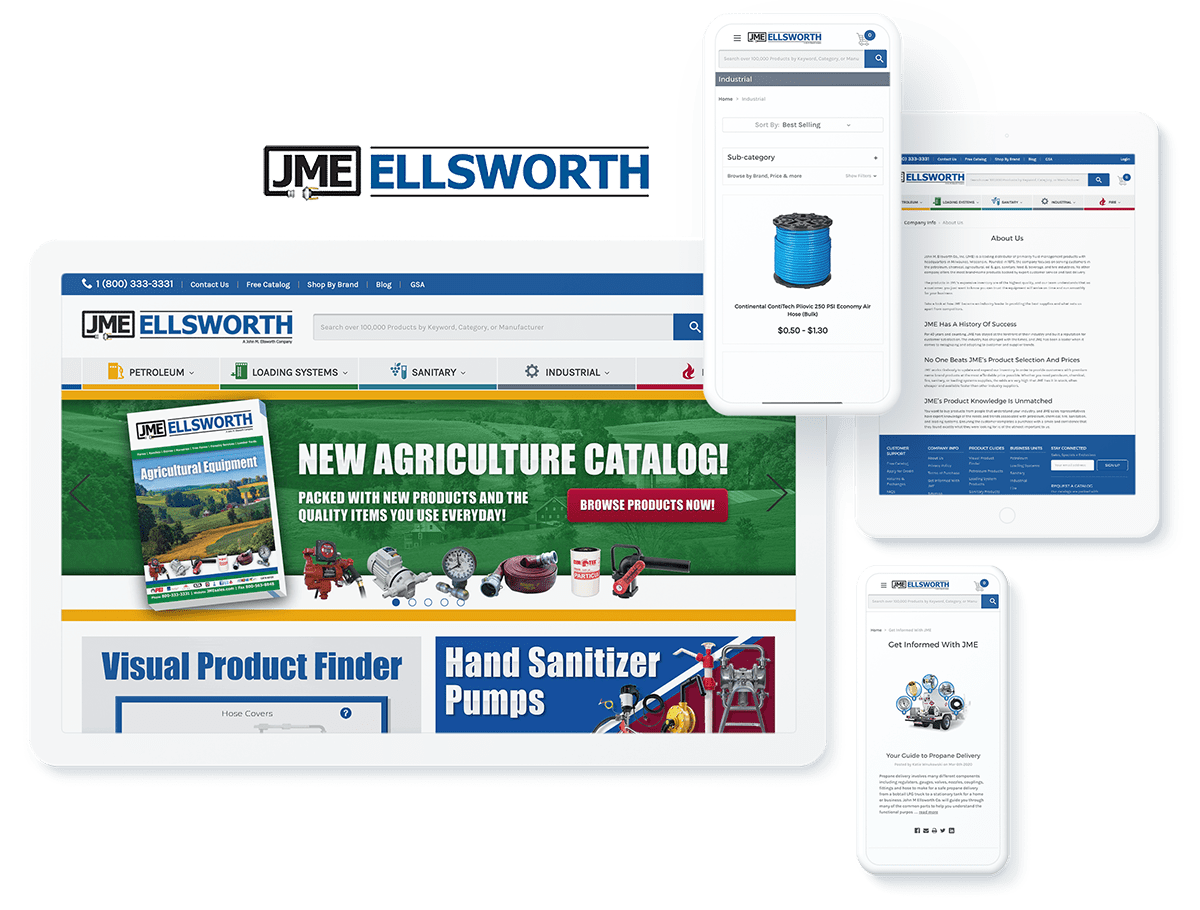 John M Ellsworth approached Americaneagle.com to improve their website and stay ahead of the competition. Americaneagle.com implemented BigCommerce, allowing for quick and easy changes on the back end content management system. The site includes a user-friendly product listing page with filters to refine searches. At checkout, customers have the option to create an account or use PayPal for a faster checkout process.
Amtab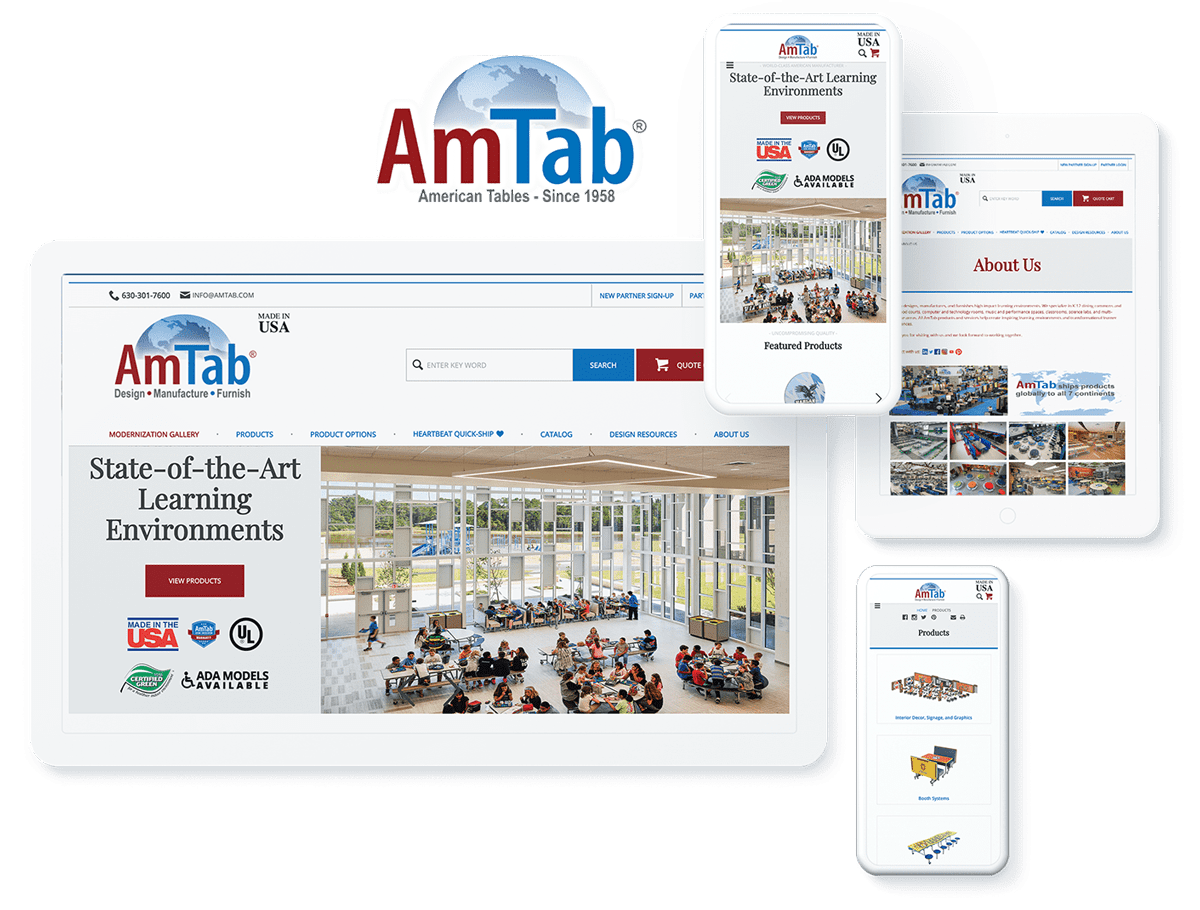 AmTab creates modern, popular, and fun ProSocial Environments and ProSocial Experiences™ with their Furniture and Signage Graphics Décor. They design, manufacture, and furnish from start to finish. Recognizing their own need for innovation, AmTab enlisted the help of Americaneagle.com to revamp their outdated website. The result is a new website, powered by the BigCommerce platform, that boasts a responsive design accessible to users on mobile and tablet devices. It also features product listings and a quote cart, perfect for users looking to learn more about AmTab's products.
Striping Service and Supply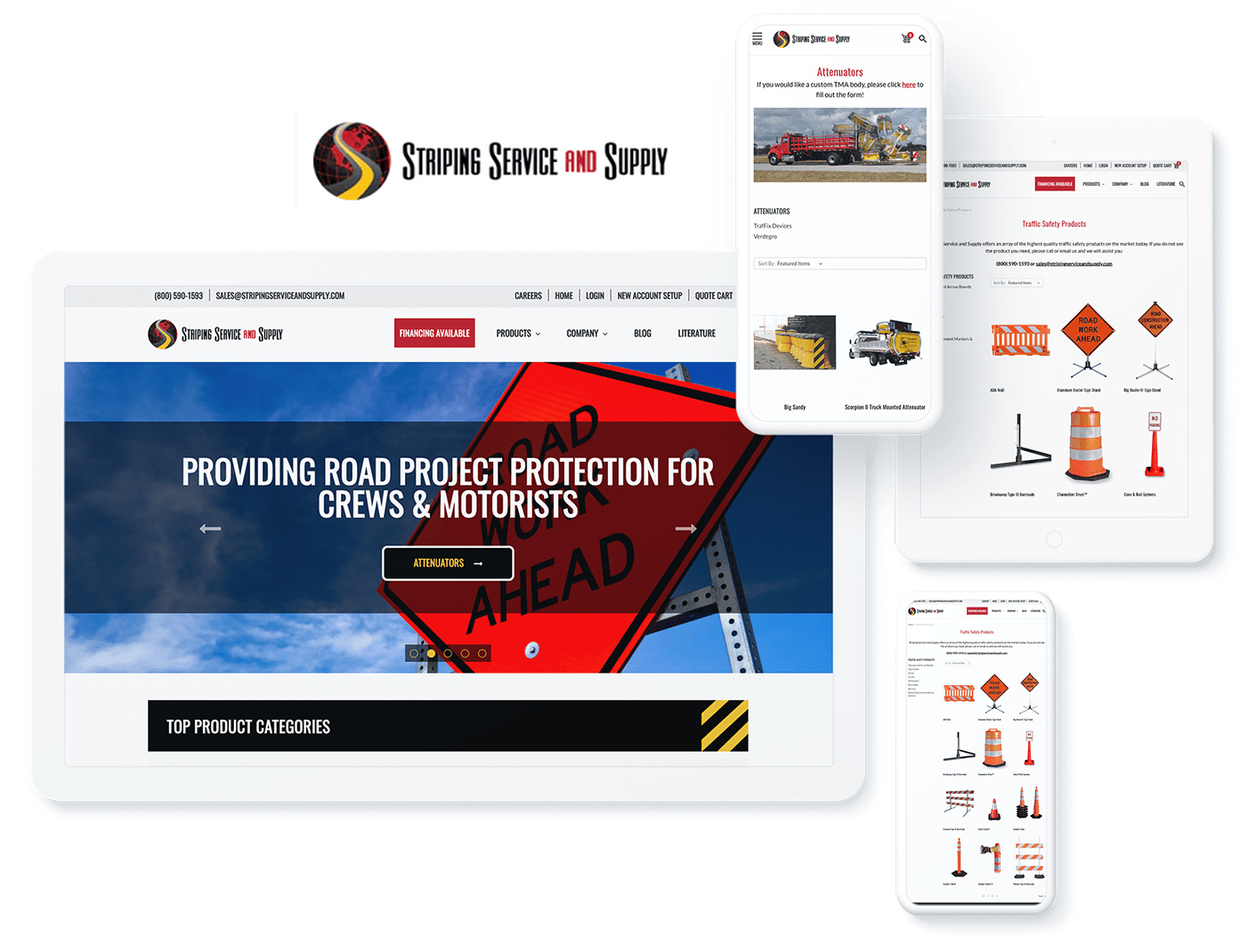 Striping Service and Supply sells a wide range of road safety and pavement marking products. Their top-notch devices are designed to ensure the safety of workers and motorists, along with the protection of equipment, during road construction projects. They chose Americaneagle.com to create a product-catalog website that perfectly showcases their business and sets the stage for future ecommerce success and growth.
Albanese Candy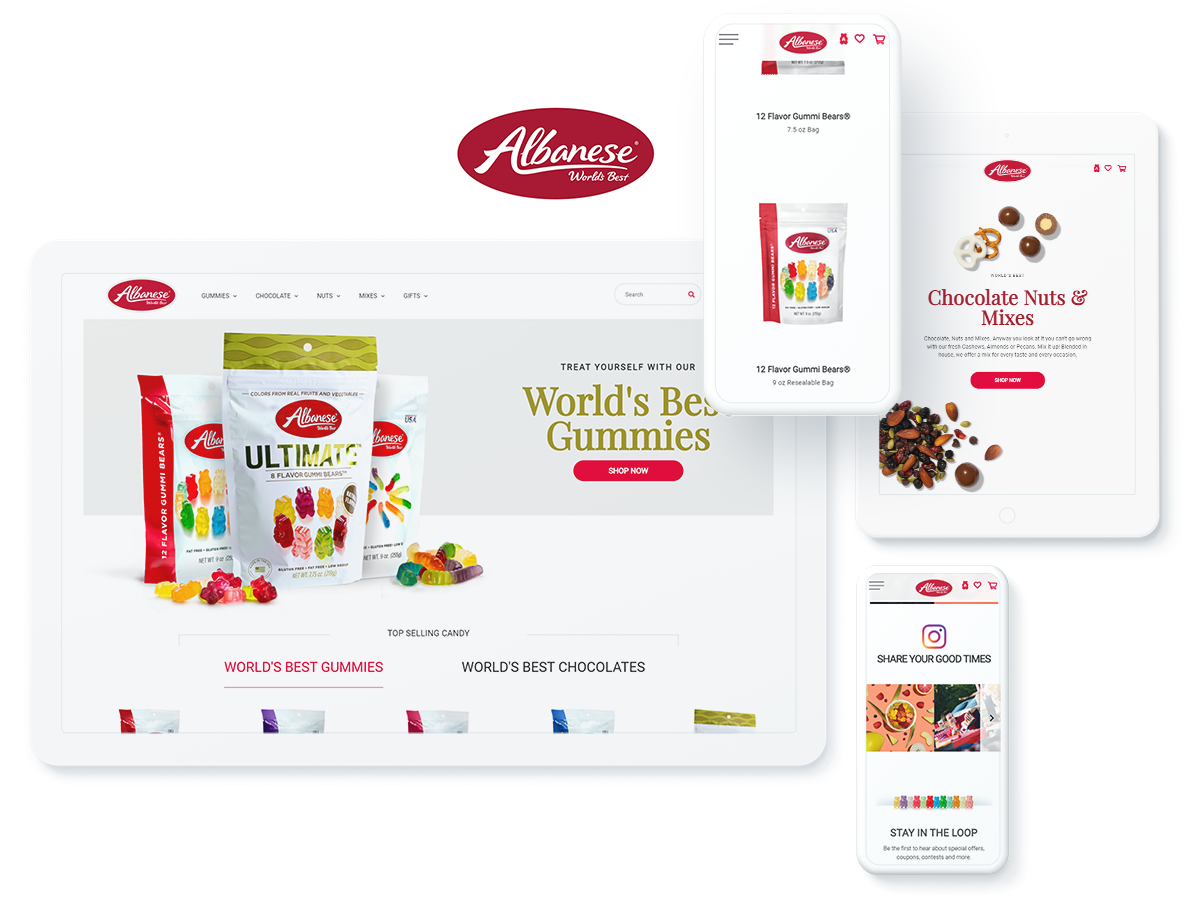 Albanese Candy's encountered significant obstacles with its content management and hosting platform before teaming up with Americaneagle.com. The existing website made it difficult for Albanese to easily update products, images, and pages. Moreover, the candy manufacturer's website provided a disappointing user experience for customers. Americaneagle.com, after implementing BigCommerce, built a new website that provides customized product features for Albanese Candy. They have built a product detail page (PDP) that displays certain items as individual items, as well as parent/child items. This tailor-made feature allows customers to easily navigate Albanese's products for a great user experience.
Key Features of an Effective Manufacturing Website on BigCommerce

Detailed Product Information
A manufacturing website's product catalog is a crucial aspect of their website. It not only displays the company's products but also allows customers to fully understand the offerings. Since B2B buyers require extensive information to complete their purchase, the website should provide intuitive organization and category filters. In addition, high-resolution images, in-depth descriptions, technical specifications, and downloadable resources like product guides or data sheets are important. This ensures that customers have all the necessary information to make informed decisions.
Bulk Pricing Options
The ability to offer tiered pricing for bulk orders is essential for a manufacturer's website. This feature can encourage larger orders and caters to B2B customers who may need products in large quantities. BigCommerce allows businesses to offer lower prices based on the quantity of items ordered, a feature that is particularly useful for wholesalers and manufacturers who deal with large quantities of products.
ERP Integration
Integrating the website with an enterprise resource planning (ERP) system is vital for real-time inventory management, order processing, and customer relationship management. This integration helps in streamlining operations and it provides accurate information to customers. BigCommerce offers several options for ERP integration to enhance the functionality of a manufacturing company website. They provide pre-built integrations with leading ERPs in their app marketplace, allowing seamless connection between the ERP system and the BigCommerce website. By integrating their ERP system with BigCommerce, manufacturing companies can improve efficiency, customer service, and synchronization of real-time data.

Responsive Design
BigCommerce handles responsive design by ensuring that all templates in their theme marketplace are fully responsive. This means that the design of the website automatically adjusts to provide an optimal shopping experience on various devices, including desktops, laptops, tablets, and mobile phones. The responsive design feature allows customers to view and navigate the online store easily regardless of the screen size they are using. By offering responsive templates, BigCommerce eliminates the need for separate web page and mobile view designs. Americaneagle.com has extensive experience with website and app development services and we'd be happy to discuss what we can do for your web presence.
SEO and Content Marketing Tools
BigCommerce offers various SEO and content marketing tools to help manufacturing companies improve their online visibility and reach. This includes built-in SEO features, content marketing capabilities, SEO optimization, integration with analytics tools, and more. Americaneagle.com, an experienced SEO agency, has helped many clients with our SEO expertise, and we can do the same for you when it comes to implementing your website with BigCommerce.
Manufacturing BigCommerce Website Design Questions Answered
Are BigCommerce themes for manufacturing brands customizable?
BigCommerce themes are customizable and they allow you to modify colors, fonts, and layouts to match your brand identity. If needed, you can access HTML and CSS to make more in-depth customizations as well.
Does BigCommerce offer any industry-specific design templates for manufacturing companies?
Many of the BigCommerce themes are versatile and can be easily adapted to fit the industrial and manufacturing industries by using different color schemes, high-quality images, technical layouts, and industry-appropriate fonts.
Can manufacturing processes and facilities be showcased on our BigCommerce site?
The rich content features on BigCommerce allow you to create galleries, slideshows, and videos that highlight your manufacturing processes and facilities to help build credibility and trustworthiness with your customers.
Can you provide downloadable product manuals and technical sheets directly on our product pages?
BigCommerce makes it easy for your customers to access important information. You can easily add downloadable files like product manuals and technical sheets directly to your BigCommerce product pages.
Is a BigCommerce site design user-friendly for both retail and wholesale customers?
Yes, there is a clear navigation structure that uses intuitive design elements and detailed filtering options. Additionally, you can have separate sections or customer groups for retail and wholesale clients to tailor the browsing experience to each audience.

Can a product configurator be configurated into our BigCommerce website for custom manufacturing orders?
Yes, you can easily integrate third-party product configurator apps or create a personalized solution using BigCommerce's API to meet your unique requirements.
How does BigCommerce handle mobile responsiveness for manufacturing websites?
Mobile-responsive BigCommerce themes are designed to automatically adapt to any device, guaranteeing that your website will always look and perform perfectly. This is especially important for B2B buyers who frequently utilize tablets and smartphones.
Are there any limitations on the number of categories or products in a BigCommerce manufacturing site?
No, BigCommerce's extensive product catalog includes numerous categories and products, allowing your online store to thrive.
Can a customer portal be created on BigCommerce that allows clients to view past orders and manage their information?
BigCommerce allows you to easily create accounts, access order histories, track new orders, and manage your information all in one place.
Why Partner with Americaneagle.com for Your Manufacturing Ecommerce Solution?
Americaneagle.com is a top BigCommerce development partner that has built award-winning ecommerce websites for clients in both B2B and B2C industries. As an Elite Partner, we prioritize providing high-quality, intuitive websites and offer SEO, content marketing, consulting, and post-launch support to ensure seamless ecommerce experiences. Our dedicated team of BigCommerce experts have deep technical and design expertise, allowing us to provide many benefits, including analytics services, to manufacturing clients.
Looking for an Agency to Build Your Manufacturing Company Website on BigCommerce?
If you have a manufacturing website and need to revamp it with BigCommerce, call the team at Americaneagle.com at (877) 932-6691 or fill out our brief Contact Us form to discuss your BigCommerce web design needs!
---
About Author
---