Approximately 66% of all US manufacturers agree that implementing stronger digital marketing and sales initiatives is one of, if not, their highest priorities over the next two years, according to a PwC manufacturing survey. In the modern digital world, those in the industry need to prioritize providing innovative solutions and smooth customer experiences. Those that don't are seeing the consequences of failing to meet evolving demands and are constantly seeking solutions to stay ahead of the competition.
When it comes to innovation, there are many reasons why manufacturers and distributors seek new digital solutions to improve the user experience. An online experience that maximizes personalization, engagement, robust product and service catalogs, navigation, and search is crucial.
B2B Website Design & Development
Knowing how important customer service and overall satisfaction are, it is imperative that companies allow for seamless integration of existing business systems throughout their websites. Companies in the manufacturing and distribution sector are looking toward capitalizing on digital solutions to propel themselves forward. Typically, they are looking to accomplish the following three things:
Maximize distribution efficiency
Expand market geography and market share
Increase overall revenue
In order to successfully achieve these goals, companies must ensure that they are utilizing the proper management processes and systems. When it comes to transforming a company's digital platform, the careful integration of a firm's existing management systems already in place is extremely important. Some of these management systems include enterprise resource planning (ERP), customer relationship management (CRM), marketing automation platform (MAP), and product inventory management (PIM). A successful digital platform transformation should have these systems strategically integrated into the website while also being user-friendly, uniform in design, and easy to navigate.
To provide some guidance and clarity on what successful manufacturing and distribution websites look like, we have compiled a list of five custom website design examples. These examples not only did a great job exemplifying how to incorporate existing management processes and systems, but also created a revamped user experience that led to greater efficiency and increased visibility and revenue.
Manufacturing & Distribution Website Design Examples
Here is a list of five strong website designs for both manufacturing and distribution companies to help generate inspiration for your next project.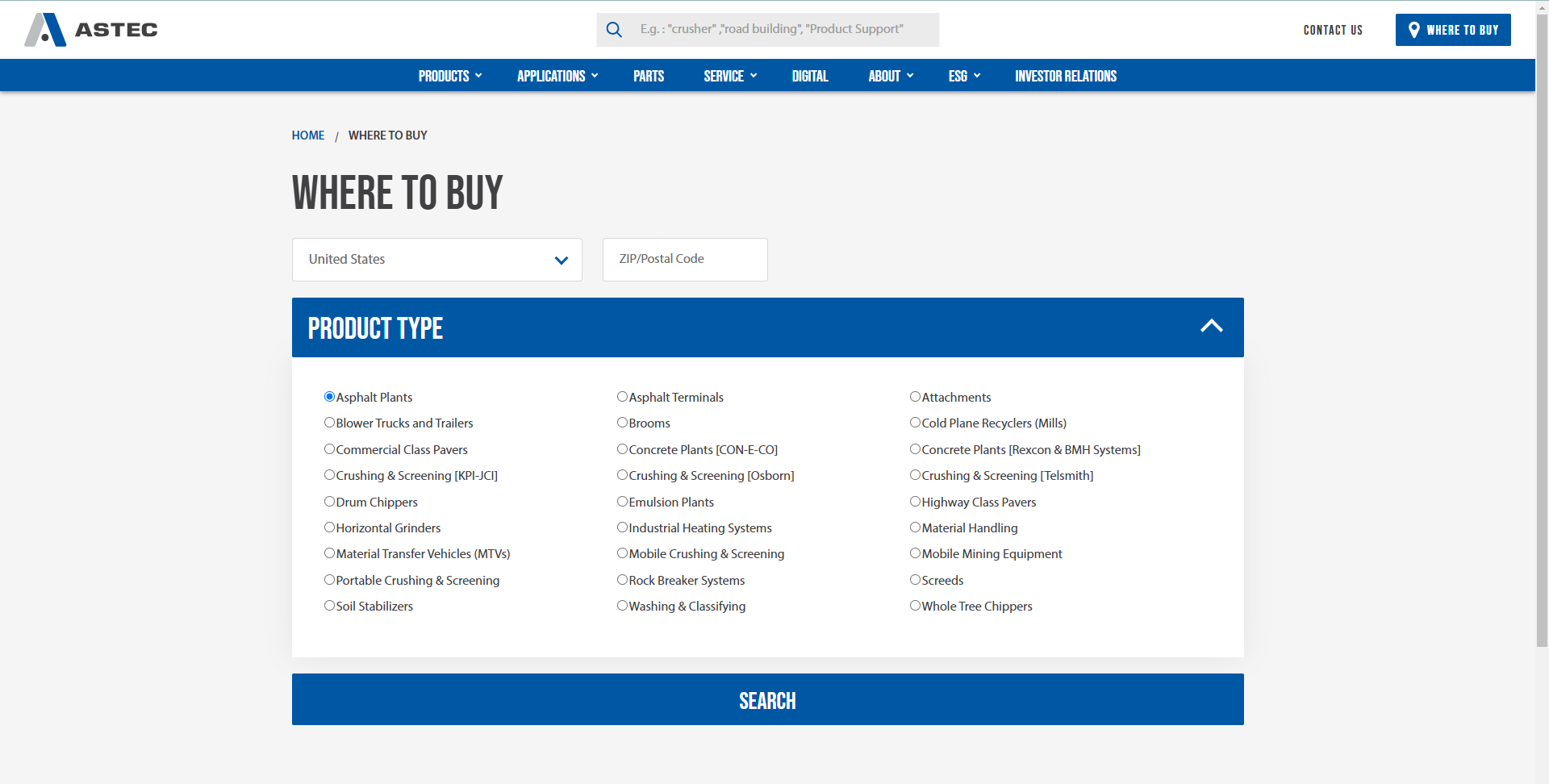 Consolidating sixteen separately-branded different websites, Astec's redesigned website creates a unified experience where users are able to access the company's expanded portfolio of products all in one place. The new module showcases an extensive range of information the customer may need, including specific product information and features, downloadable resources, and specification tables. Also implemented was a function where customers can search for specific product types or geographic locations and find options nearest to them. In addition, the corporate branding of the firm was effectively showcased by displaying URL redirect alerts to regular customers who used the previous branded sites before taking them to the new site. This was a very beneficial method to alleviate any user concerns or confusion and affirm familiarity.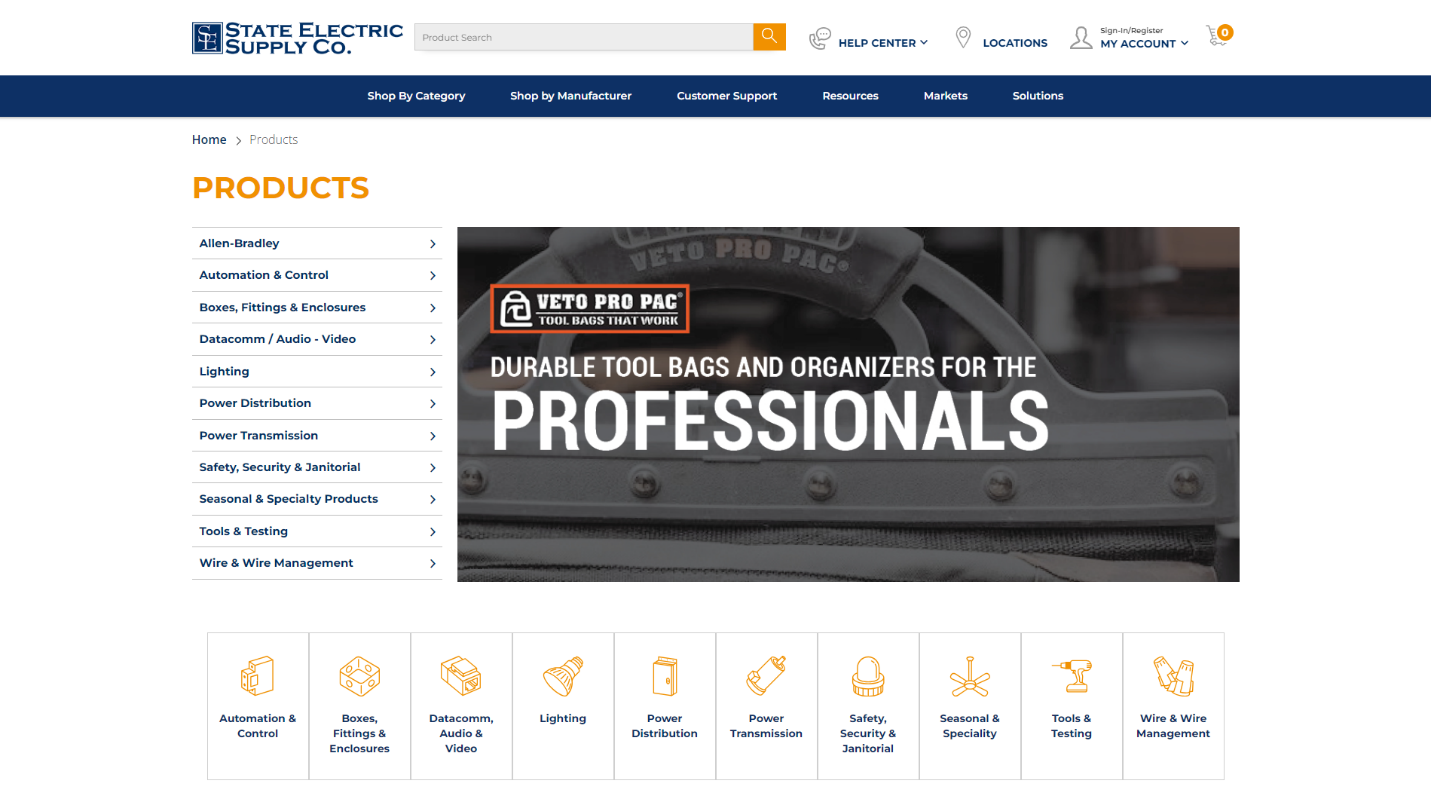 The easy, intuitive navigation and search capabilities across State Electric's website allow for a smooth B2B customer experience from start to finish. The implementation of an advanced search tool allows customers to find the products that they need quickly and efficiently. Integrating the company's ERP, Infor, into the website also created an easy method for customers to access State Electric's entire product catalog. Product information, inventory, and invoices give users the ability to easily shop, purchase, and ship products. What really makes this website stand out, however, is the enhanced SEO strategy behind it. Utilizing key industry terms in all of its title tags, meta descriptions, and headings has drastically increased the visibility of the site on big search engines, ultimately leading to increased site conversions and overall revenue.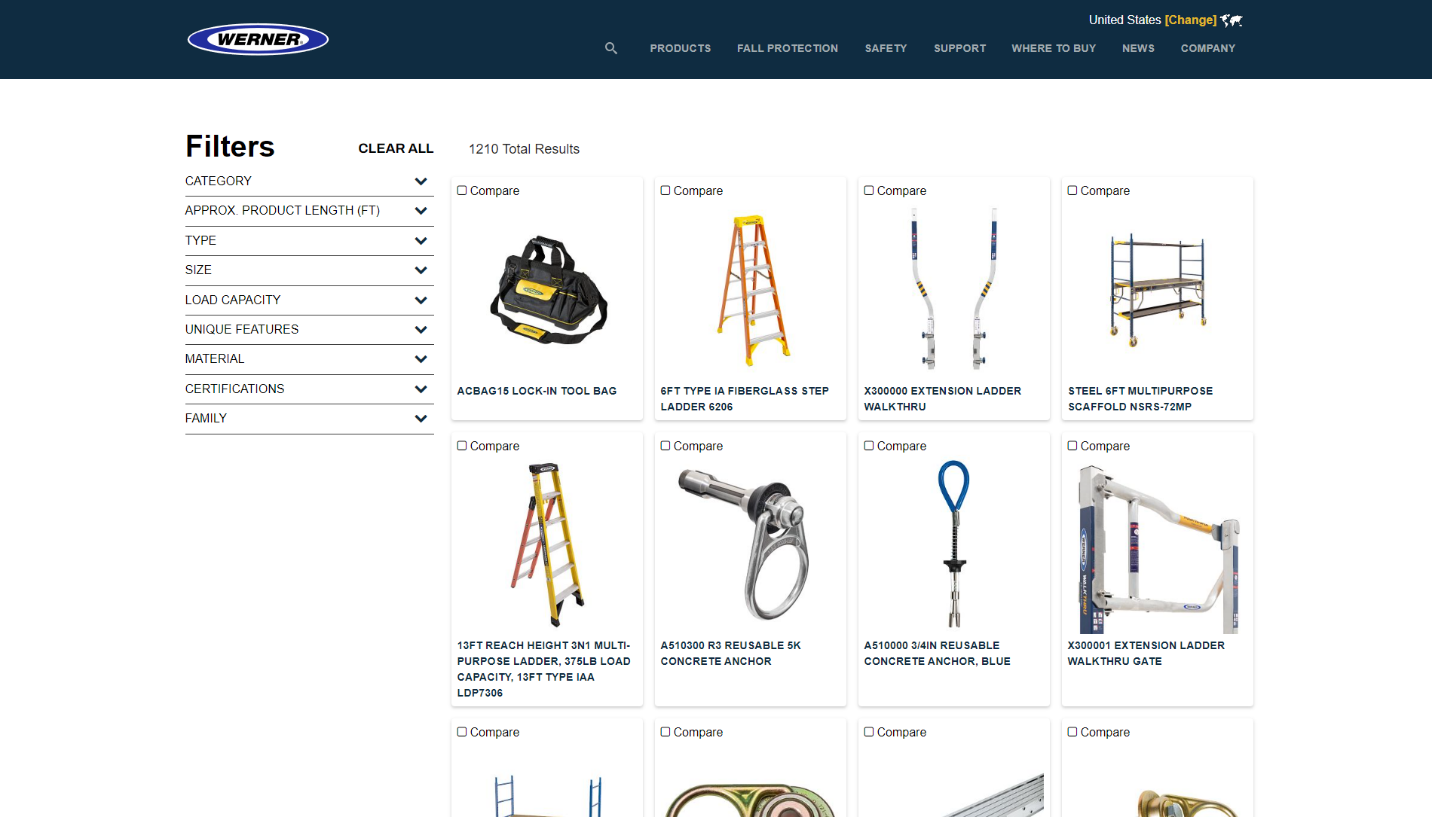 Werner's 20+ websites are now run on one admin platform, Sitefinity. The new consistency and growing internal expertise and capabilities within the platform make it very easy for the company to launch new sites as more product lines are released. The company also utilizes a global template and Resource Package structure which allows for the creation of unique, yet cohesive designs across all Werner entities. With functionalities such as the "Find Your Ladder" feature and the product comparison tool, the website features fast navigation and efficient matching of customers and products. The implementation and integration of a PIM tool made tracking product information both accurate and easy without the need for multiple updates.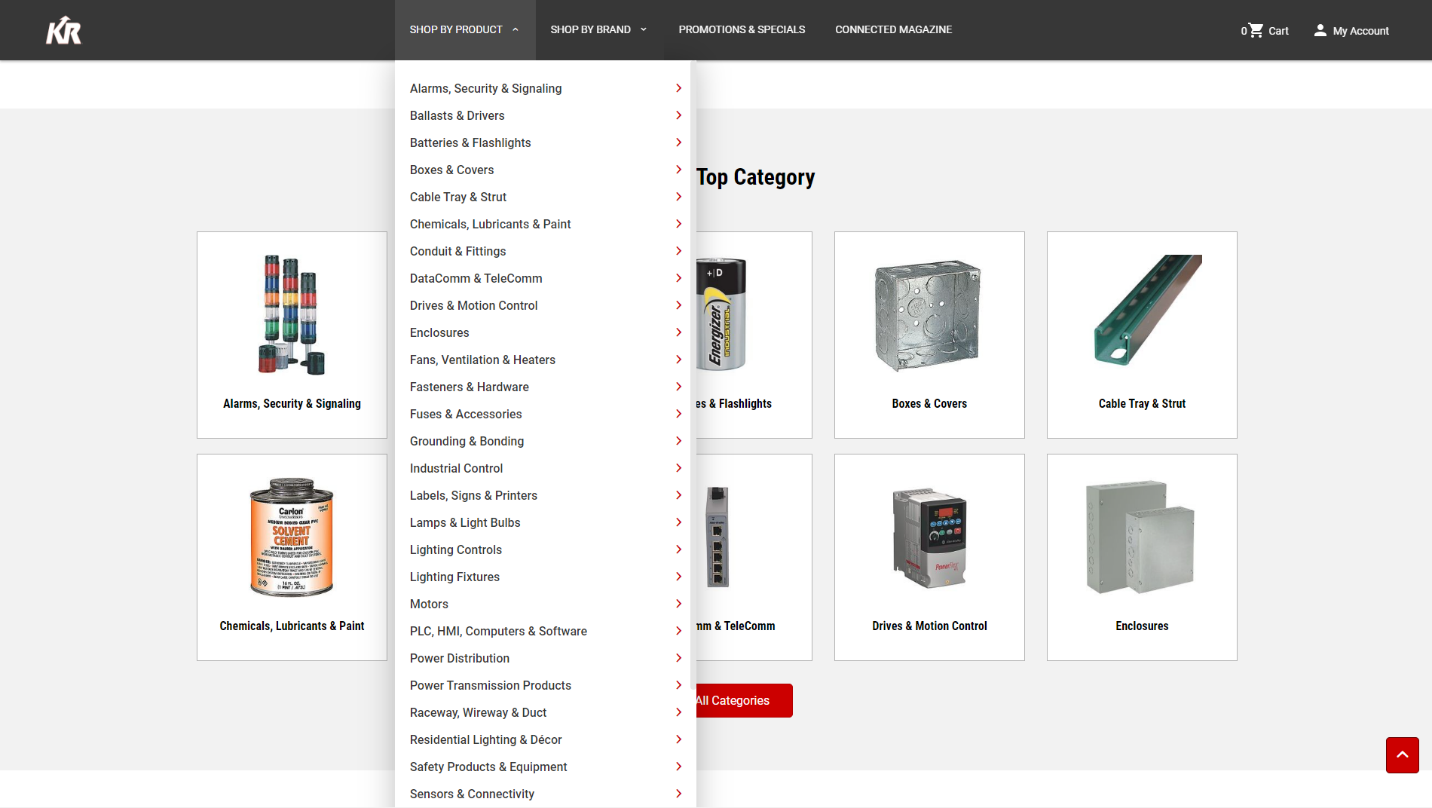 In order to effectively manage all of its B2B functions and activities, Kirby Risk's website utilizes the ROC Commerce platform. The site acts as a single source solution for tracking ecommerce activity, customer registration, approval management, and inventory management, invoicing, and more. The website also heavily prioritizes customer engagement by offering various mechanical repairs and services online. An advanced search tool allows customers to quickly find the products or services they need out of the wide range of products available.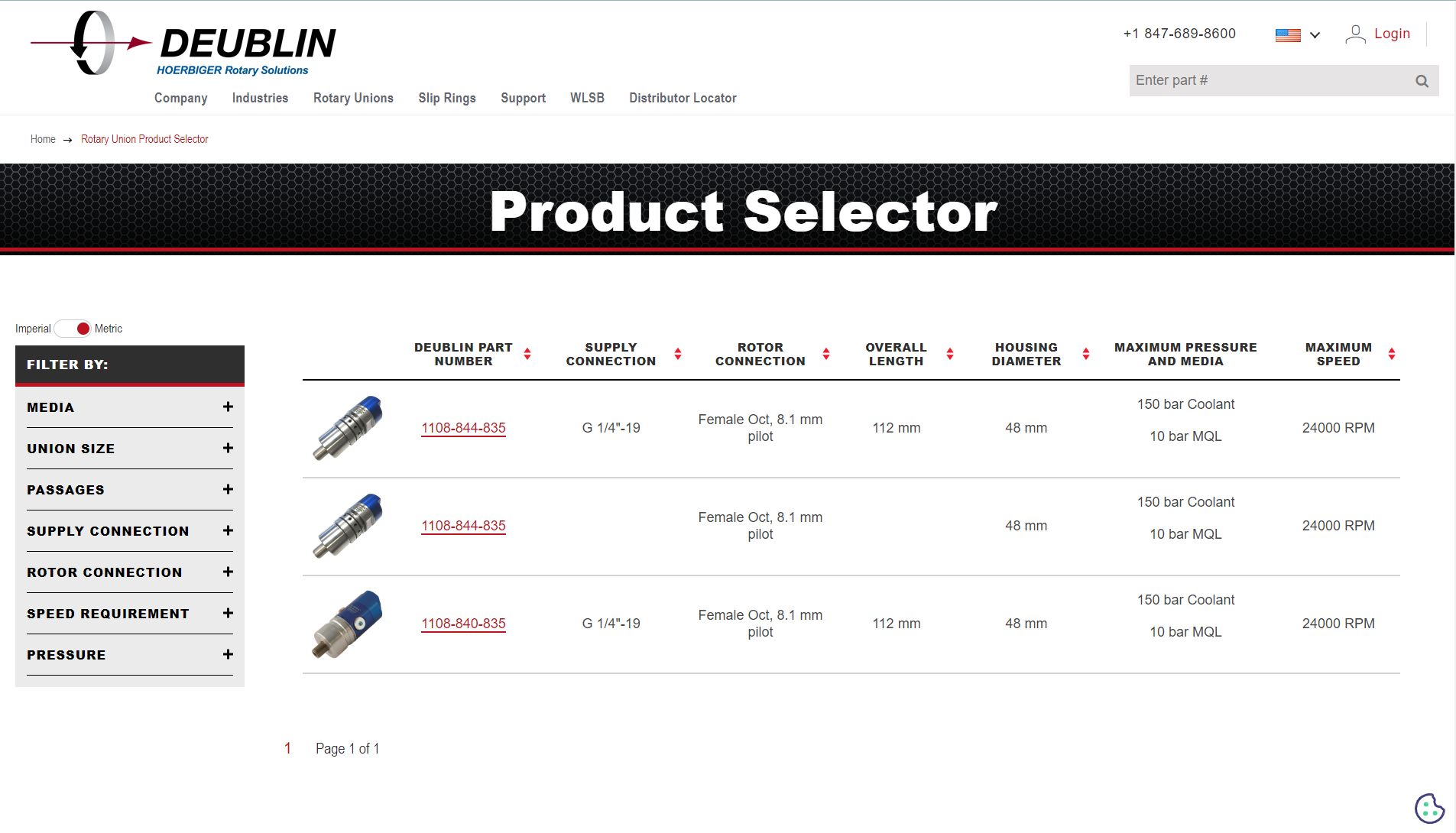 Given the importance of its in-house ERP system, Deublin's website strategically integrates its ERP system with Sitecore Commerce to display available products and product information in real-time. When a user purchases a product and checks out, the tax is calculated and submitted back to Deublin.To simplify the transaction process, PayPal Payflow Pro was also integrated into the site. Customer-related information is stored on the site thanks to the Member Management process, which integrates the ERP with Sitecore Commerce. In addition, the entire website, along with the product catalogs and country-specific pricing, can be translated into fourteen different languages.
Partner With an Expert Website Design Agency Today
A manufacturing or distribution company is only as successful as its benefit to customers. The need for user-friendly and integrated websites is higher than ever before. A custom website that allows a successful customer experience from start to finish is key to building both convenience and brand loyalty.
Americaneagle.com is an expert website design agency with over 25 years of experience providing web design and digital marketing services. Having helped hundreds of manufacturing and distribution, we have fostered strong relationships with some of the best ecommerce and B2B platforms in the world to help us effectively implement existing management systems into your transformed website. Our experienced team of web developers, digital marketers, strategists, and more are here to help find the best solutions for your business.
Contact us today to learn more.
---
About Author
---