Who's excited for this year's DrupalCon? We know we are.
Taking place at the Oregon Convention Center on April 25-28 in Portland, Oregon, DrupalCon is the largest Drupal community in-person event. It's an opportunity to bring attendees together from around the globe to share thought leadership on open source digital experiences and enhance their Drupal knowledge.
Through keynote presentations, hands-on workshops, breakout discussion groups, and other interactive sessions, DrupalCon 2022 attendees will spend the four days connecting with a community of developers, marketers, and business leaders. Speakers and panelists consist of expert developers, agencies, and business leaders who have experienced the benefits of Drupal first hand and are ready to share their knowledge and expertise with others.
The show officially kicks off on Monday, April 25 at 9 a.m. PT and then closes out on Thursday, April 28 at 5 p.m. PT. Here's an overview of what you can expect each day: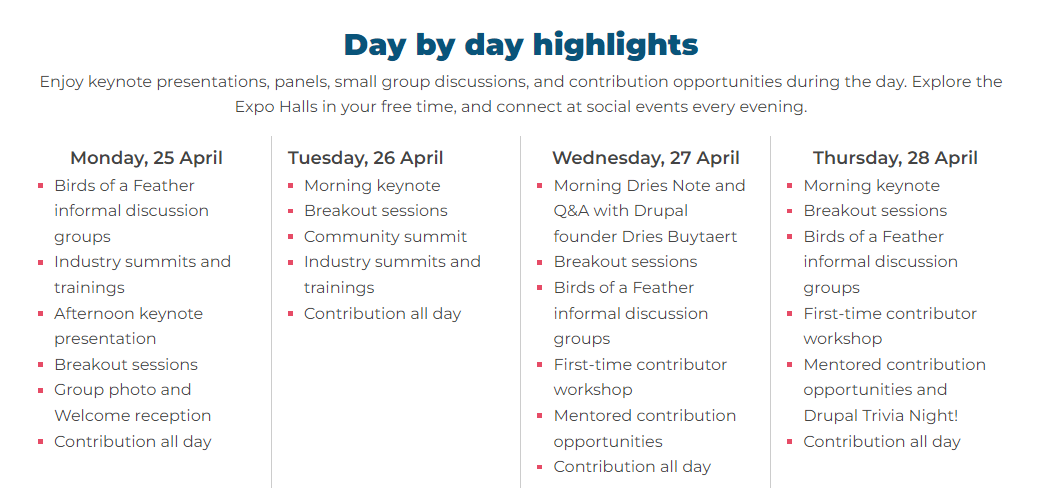 (Image courtesy of events.drupal.org)
While we're excited for all of the sessions, we thought it would be helpful to put together a list of some of the ones we're looking forward to attending:
For those looking to unwind and a have a bit of fun after a day of learning, DrupalCon is hosting a variety of events. On Monday, there's a welcoming reception in the main expo hall. On Tuesday, there's chair yoga in G129-G130. On Wednesday, there's a mindful meditation session also in G129-G130. And for the grand finale on Thursday, there's trivia in ballroom 204 complete with food, drinks, and prizes.
Americaneagle.com is proud to be a sponsor and exhibitor at DrupalCon Portland 2022. Visit us at #207 to discuss how we can help create a powerful and scalable solution that enables your business to succeed. Click this link to complete our online form to connect with us before, during, or after the show. In the meantime, check out our Drupal development services page to learn more.
We look forward to connecting.
See you soon!
---
About Author
---