2022 is going to be another critical year in terms of data privacy. As consumers continue to fight for their right to privacy, businesses, large and small, all over the globe, are shaping their operations to comply with newly enacted laws and regulations. It's an attractive topic that's impacts many facets of our lives. As such, we put together a list of five data privacy trends industry experts are predicting will make a massive impact this year and beyond.
Data Privacy Trend #1: Increased Protection Regulations
In 2021, we saw more and more U.S. states introduce new or stricter privacy and personal information protection regulations. This is a trend that's expected to continue in 2022 and in the future. California, Virginia, and Colorado introduced new privacy protection laws that will go into effect in 2023. More than a dozen other U.S. states are expected to follow suit which means a lot of companies will begin aligning their operations with the new regulations and will face increased complexity when it comes to consumer data and regulatory compliance.
Companies that operate globally will continue to align their operations with new privacy regulations as well. Countries like China and Saudi Arabia have already signed their own bills into effect, while Canada, India, and South Korea are predicted to implement new protections this year.
Here are a few examples of U.S. states and countries that have recently upped the ante on their privacy and personal information regulations:
California: California Privacy Rights Act (CPRA)
Virginia: Virginia Consumer Data Privacy Act (VCDPA)
Colorado: Colorado Privacy Act (ColoPA)
European Union: General Data Protection Regulation (GDPR)
China: Personal Information Protection Law (PIPL)
Brazil: General Data Protect Law (LGPD)
Data Privacy Trend #2: Increased Regulatory Enforcement
With all of the new laws and regulations going into effect comes more regulatory enforcement from U.S. and other global government agencies. Industry experts predict that government agencies will increasingly issue specific regulations and requirements regarding breach reporting. This includes stricter notification time periods for notice of critical cybersecurity incidents. Businesses will need to adequately disclose risks and comply with the notification requirements or else they may be targeted in enforcement actions.
Data Privacy Trend #3: Increased Scrutiny on Adtech
This year, regulators are expected to increasingly examine – and scrutinize – the use of advertising technology (adtech) to track individuals' online usage. According to Oracle, adtech is "the broad term that categorizes the software and tools that agencies, brands, publishers, and platforms use to target, deliver, and measure their digital advertising efforts." As regulators take a harder look at individual's right to online privacy, 2022 is predicted to bring about new ways for adtech companies to embrace this new privacy-forward atmosphere.
Unsurprisingly, Apple was one of the first companies to embrace these changing expectations. In April of 2021, the tech stalwart released iOS 14.5, an update with the App Tracking Transparency (ATT) Framework. The framework requires that all mobile app advertisers gain "opt-in" from users in order to track their web and app activity, providing consumers with security, control, and privacy over the ads they see across their devices.
This trend will certainly be interesting to watch unfold this year and beyond as it may make things a lot more difficult for adtech companies to reach their target audiences and deliver relevant ads.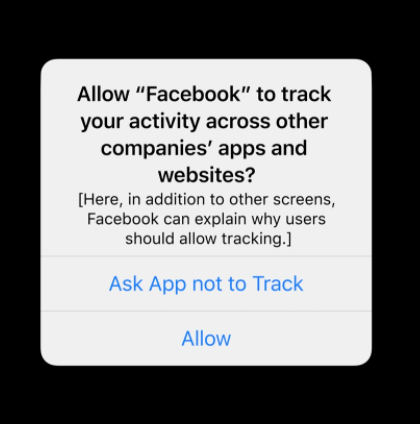 (Image courtesy of 9to5mac.com)
Data Privacy Trend #4: The Death of the Third-Party Cookie
Google, a large player in the world of online advertising, announced that it was going to phase out its infamous third-party cookies in Chrome by the end of 2023. For those who are unfamiliar, a cookie helps companies track website traffic, improve user experience, and gather data to improve ad targeting. Third-party cookies, specifically, are used for online advertising purposes and are created by a separate or "third-party" domain. Many consumers are concerned with these because they collect personal, sensitive data that can be put together to create extensive profiles on them. As a result, consumers are asking for enhanced privacy protections. The phase out is Google's "answer." It doesn't, however, necessarily mean that advertisers are out of luck – they're just going to have to get creative.
For advertisers still looking to leverage the data that third-party cookies provided, they can use Google Ads, powered by Chrome's first-party cookies and the new Privacy Sandbox tools. The Privacy Sandbox is an initiative that aims to create technologies that protect people's privacy online as well as gives companies and developers tools to build thriving online businesses. Industry experts predict that countless number of companies will try their hand at leveraging the Sandbox's toolset.
Data Privacy Trend #5: The Emergence of Zero-Party Data
As third-party data continues to be phased out, a new player is emerging: zero-party data. Coined by Forrester Research, zero-party data is "that which a consumer intentionally and proactively shares with a brand. It can include preference center data, purchase intentions, personal context, and how the individual wants the brand to recognize them."
Zero-party data is another solution to heightened privacy and personal information protection concerns as it allows consumers to easily opt out of being tracked. It's also a better solution for advertisers as the data is more definitive and trustworthy than other forms because it's coming straight from the consumer itself. So, as more and more companies recognize the benefits, from both a consumer protection and an accuracy standpoint, industry experts predict the use of zero-party data will significantly increase in the coming years.
Conclusion
The world of data privacy is rapidly changing for consumers and advertisers. Pay close attention to how these trends play out this year, and in the future, as the impact will be big – no matter which side you're playing for.
Americaneagle.com is a web design and digital marketing company with over 25 years of professional experience. To learn more about how we can help your business expand its digital growth, contact us today.

---
About Author
---