If you have an ecommerce business, it's not wise to ignore Instagram. Instagram has come a long way from being mainly a photo-sharing app and is currently appealing to a wide variety of influencers, advertisers, and brands. If you are not already using Instagram for ecommerce, the following Instagram statistics will convince you that you should be:
One billion active users per month.
Over two-thirds of users under the age of 35.
More than 500 million accounts use Instagram Stories each day.
One-third of the most-viewed Instagram Stories emanate from businesses.
71% of US businesses use Instagram.
90% of all accounts follow at least one business on Instagram.
Seven out of ten hashtags on Instagram relate to brands.
Over 80% of users discover new products on the Instagram platform.
After coming across a product on Instagram, 79% of users search for more information, 37% visit the associated retail store, and 46% make a purchase.
Instagram helps 80% of users make purchase decisions.
Using Instagram for ecommerce makes it possible for brands to generate over four times more interactions via Instagram when compared to Facebook.
Using Instagram for ecommerce. Here are twelve ideas to help you increase user engagement and sales opportunities on the Instagram platform.
1. Look to your content. There's no hard and fast rule for how often you should post on Instagram. However, consistency and good quality content are essential. To help maintain engagement with your target audience, consider using a scheduling app to automate the process.
2. Pay attention to your photos. Don't fall into the too "salesy" trap. Also, too many similar photos posted one after another may not make a good impression. Be creative with your photos, for example:

Show the culture and lifestyle associated with your products.


Build emotional connections with your target audience, e.g., post behind-the-scenes photographs of your products or share exclusive footage from live events.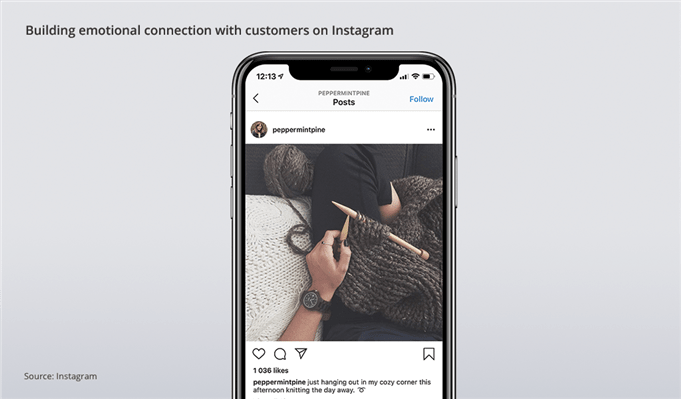 3. Use hashtags the right way. Hashtags that are relevant to your product are search-optimization tools. However, although each post is allowed up to thirty hashtags, it's not necessarily the case that more is better; they need to be used strategically. Hashtags fall into three categories:

Geotags (include a locale or city).
Branded tags (related to your business name, product, or slogan).
Niche tags (super focused with fewer searches).

Add a tag to the first comment of your post as shown below.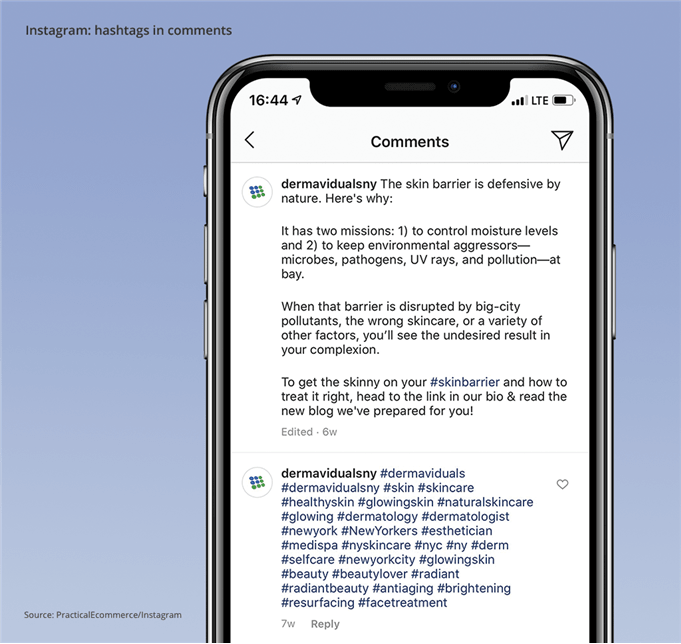 4. Optimize your company's name. Names are a searchable field on Instagram, so optimize your company's name and your business profile by including relevant keywords.

5. Share user-generated content. Get sharable content on your platform by asking your customers for product reviews. You can also share photos/videos featuring real buyers using your product (with branded hashtags). Sharing user-generated content helps expand reach, build a community, establish trust in your brand, and boost customer loyalty. Moreover, posting interesting content created by your users helps give your brand an approachable and friendly image.
6. Love your customers and prospects. According to one study, 65% of customers said they would feel honored if a brand liked their post. Moreover, 70% of Instagram users have entered a photo contest or competition at some point. So like your customers' posts, run contests, and offer exclusive coupons.
7. Recruit influencers. A consumer is more likely to trust another individual's recommendation over that of your company's. Instagram is considered to be one of the most effective social media channels for influencer marketing. So engage influencers who can spread the good word about your offerings.
8. Regard your followers as your road to success. To respond to comments and engage with your followers, don't wait for new notifications to pop up. Instead, create a workable system and allocate a specific time or times to respond to your audience.
9. Using Instagram for ecommerce – measure your success. Keep an eye on how your Instagram posts and stories are performing. Use Instagram Analytics to collect data about reach per post, impressions, purchases, your demographic, the type of content your audience likes, etc. Information on when users are most active (which weekdays/what time) will help you pick the optimal time for scheduling your posts.
10. Consider a social media omnichannel sales strategy. To better connect with your target audience, consider optimizing each social media platform to best serve its users. Then integrate every platform into a coordinated approach, per the examples below:
If you receive lots of customer inquiries using Twitter, optimize your Twitter approach to answer queries.

If your followers tend to use your Facebook Page to learn more about your business, aim for more educational and engaging content.

If people are more likely to buy from you on Instagram, enhance your Instagram business profile to achieve more sales.
11. Set up an Instagram Shop. Instagram storefronts allow ecommerce sellers to incorporate their product catalogs into their Instagram profiles. This will enable products to be shown directly to Instagram users through the Explore tab, via posts and Stories, and by using a special Shop tab on their profiles.
12. Use Instagram Checkout. Instagram Checkout solves the problem of a too long and slow redirection that makes a lot shoppers exit before reaching checkout. Instead, purchases can be made with just a few clicks, making for a more seamless and faster shopping experience.

Example: In 2020, Sephora opened up an Instagram Checkout in a digital storefront. This feature enables shoppers to search for products, add them to a shopping bag, and check out all within the native Instagram app.

Conclusion

Using Instagram for ecommerce enables businesses to position their products in a real-world setting, engage with their satisfied customers, and improve customer loyalty. The result is increased sales. With one billion active users and one-third of users having purchased a product they discovered on Instagram, the role of this platform as a major social selling tool is clearly on the rise.

---
About Author
---