For many pay-per-click (PPC) marketers, 2020 invalidated most of what they've known to be true about their industry. Strategies that worked before suddenly made no sense amid a pandemic in which marketing budgets were temporarily reduced to a minimum and advertising campaigns were put on hold for a couple of months.
The good news is that the road ahead looks promising, with more home-bound people turning to online for researching, shopping or simply browsing. Apps like TikTok, WhatsApp and Instagram have become not only an oases of entertainment but also vital sources of COVID-19 related information.
To help you stay relevant in these uncertain times, we've gathered the four most important PPC trends for 2021. Some of them might surprise you, others might challenge your beliefs, but they are all valuable guiding steps for the year ahead.
1.) Deliver Convenience with Voice Search

Two years ago, half of all smartphone users were using daily voice search technology to find local businesses, and this trend has only been accelerated by the COVID-19 pandemic.
Voice-activated smart speakers like Amazon's Alexa, Apple's Siri, Google Voice, or Microsoft's Cortana are now used for more than getting weather updates or playing songs. Instead, shoppers are turning to these devices with queries such as "Best pizza delivery near me," or "What bank is open on Sunday?"
An easy way to optimize your PPC campaigns for voice search is to include conversational keywords and phrases based on relevant search queries.
Voice searches are typically longer than text-based ones (four + words compared to three + words) and they usually contain terms like "near me," "open now", "best," as well as "who," "what," "where," "when," "why" and "how."
Use online search engine optimization (SEO) tools like SEMrush to search for long-tail keywords and build your PPC campaigns around them. Make sure to include names of cities, neighborhoods and streets in your ad copy, as many users conduct voice searches while driving and need straight-forward answers and directions.
Need more inspiration? Take a look at how Purina, Esteé Lauder, Domino's, and other famous brands are taking advantage of voice search outside of PPC.
2.) Gain More Visibility with Discovery Ad Campaigns

If you're not familiar with this type of advertising, Discovery campaigns are an immersive and interactive way to target prospects at scale, when they are most open to trying new brands.
Launched in June 2020, Discovery ads leverage Google's powerful algorithm and deep understanding of customer intent to spark users' interest in your products when they're in a "discovery" phase, browsing for their favorite content. You can also use this type of ad to reconnect with your returning customers, who already know and love your brand.

According to Google, Discovery campaigns can help you reach up to 3 billion customers across Google feeds. This means your ads will hit prospects' mobile home feeds on YouTube and their Gmail accounts.
Marketers can opt for a single-image or a multi-image carousel Discovery ads to attract qualified leads. Thanks to machine learning capabilities, the tool will suggest the best headline, description and image combinations, as well as high-performing placements. Bidding, targeting and other campaign settings are automated for Discovery campaigns to save you time and maximize your budget.
The result is unmatched brand visibility and higher conversion rates, whether they are for product purchases, website visitors, downloads or subscriptions.
3.) Scale Faster with Smart Bids

Automated bidding structures can do wonders for your campaigns by taking the guesswork out of setting bids to meet your performance goals. Smart Bidding is a set of conversion-based bid strategies from Google Ads, each serving different business goals. Some of them can be employed as stand-alone strategies in a single campaign or portfolio bid strategies across multiple campaigns.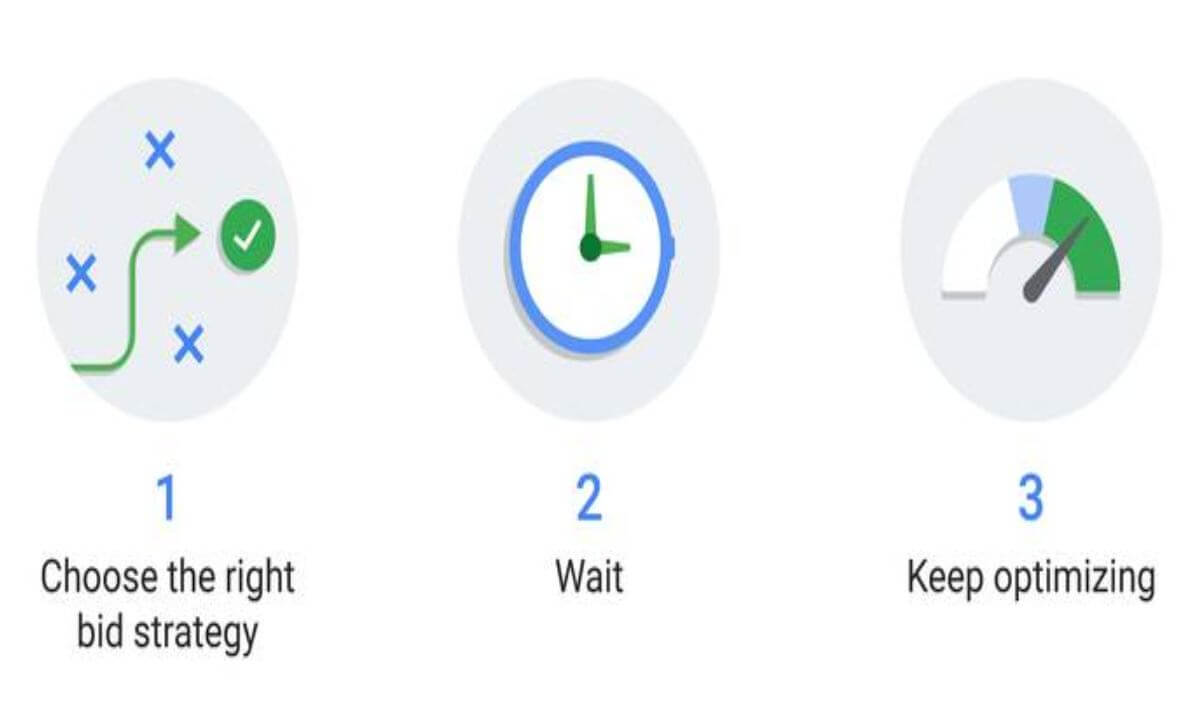 For instance, to drive conversions with your target cost-per-acquisition (CPA), choose the Target CPA strategy which will automatically set "Search" or "Display" bids to deliver the most conversions at the target cost-per-action (CPA) you selected.
If you wish to increase site visits, Maximize Clicks is your best choice. This tool will ensure you gain as many clicks as possible within your budget by factoring in signals like remarketing lists, time of day, browser and operating system into bids.
One of the companies that used Maximize Conversions to build brand awareness saw a 73% increase in conversion volume. All while sticking to their initial budget.
The best part is that Smart Bidding works equally well for large and small businesses. Some benefits worth mentioning:
You have access to a wide range of contextual signals or attributes. These can be device, physical location, web placement, site behavior, location intent and more. With auction-time bidding, you can factor in a wide range of signals into your bid optimizations. Sometimes, recent historic data is not a good indicator of future performance. Google now allows seasonality adjustments, so that bids automatically adjust to your business cycle.
You can control performance targets based on your unique business goal. You can even set device-specific performance targets for mobile, desktop and tablet.
You get valuable insights. Smart Bidding comes with reporting tools that give you a greater understanding of your campaign's bidding performance.
While Google Ads puts bidding on autopilot and helps you get more bang for your marketing buck, it's important to rethink your bidding approach based on your business' high traffic periods, new product launches, etc. Ready to start using Smart Bidding? First, learn how to enable conversion tracking with this simple tutorial.
4.) Expand Your Reach with other Paid Ad Platforms
Many marketers are starting to diversify their advertising beyond Google Ads. Investing in less traditional PPC platforms like YouTube, Facebook, Instagram, Twitter and even TikTok is an effective way to protect your campaigns against future crises and expand your reach.

YouTube, for example, gives you the option to choose between three types of video ads: TrueView, Preroll and Bumpers. If you're just testing this platform, start with TrueView ads.
Up to 20 seconds long, TrueView ads are standard video ads for which you pay only when viewers watch them for at least 30 seconds. Some of these ads appeared after searching for something on YouTube or in the form of a related video. There are also TrueView in-stream ads that play before a selected video begins, with the option to skip the ad after five seconds.
This means you have a short window of time to capture users' attention and the best way to do that is through storytelling. The YouTube Insight Team shared some ways to master the art of video advertising:
Use humor. Funny ads or ads with a "suspenseful" or "emotional" tone see greater gains in ad recall and brand awareness.
Include smiling, recognizable faces of influencers or celebrities.
Spice up your music or skip it altogether. TrueView video ads that feature upbeat music such as "funky dubstep" are more likely to be fully watched, but so are those with no music at all.
According to data from AdEspresso, viewers who watch a second TrueView ad in 24 hours are 500% more likely to engage in a company's call-to-action (CTA). Take advantage of this statistic. make sure to include post-click landing pages that perfectly align with your ad. Everything from page design to language and colors should make the visitors feel at ease and ready for conversion.
Choosing the paid advertising method can be complicated without expert help, since different models work better for some industries instead of others. At Americaneagle.com, we have a team of Digital Marketers ready to manage your online advertising campaigns using cost-effective techniques that turn searchers into customers. Contact us and let's start a successful collaboration.

---
About Author
---