As a dealership in the automotive industry, you don't need a report to tell you that the global COVID-19 pandemic is causing your business to run on fumes. While lockdown restrictions ease and scientists find new ways to combat the virus, you have the opportunity to develop strategies that ensure your company stays on clients' radar. Content is one of those powerful strategies. Instead of passively waiting for buyers to walk through your door, invest in smart content that gets prospects excited about car shopping.
We're sharing our writing best practices for businesses like yours. Use these actionable tips to expand your clientele, rank higher in search engine results, improve your dealership reputation and more.
1.) Alleviate customers' purchasing anxiety through frequently asked questions (FAQ) pages
Here's an indisputable fact: 88% of prospective buyers use the internet for vehicle shopping.
To differentiate from your competitors, you need to deliver unique buying experiences that match clients' expectations. The easiest way to do that is by creating informative content. Equip prospects with knowledge not only about the product they are about to spend a small fortune on, but also about the entire buying process. A survey conducted by the car shopping site Edmunds.com discovered that Americans say purchasing a car or truck is more stressful than getting married, going on a first date or watching their team in a close championship game. Your content should help relieve some of this stress.

Start by building a well-rounded FAQ page. Aside from addressing customers' most pressing questions about your services, this section can establish you as a reliable dealer. The key is to share information that other auto dealers wouldn't such as:
What are the best financing options?
How to read a vehicle invoice?
What are the costs of maintenance and parts replacement?
How car dealers make money?
Imotobank Car Dealership, a used car dealer in Walpole, Massachusetts, has an impressive FAQ page, including several categories from Processes and Mechanical to Delivery, Timeline and Finance.
Take note of their model and build your own FAQ page. Focus on answering specific questions that will streamline your customers' path to conversion.
2.) Intrigue audiences with storytelling
When shoppers come to you, they aren't just looking to buy a car. Most of them crave meaningful transactions that leave them feeling like their investment is worthwhile. 63% of consumers prefer to purchase from purpose-driven brands that are involved in their communities, shows research from Accenture.
Without storytelling, your website is yet another auto platform in your audience's long queue. Science tells us decision-making is more emotional than it is logical. To stop customers in their tracks, you need to construct a powerful brand story. Here are a couple of ways to achieve this with minimal effort:
Show readers what makes you unique. Tell them about your philanthropic efforts or your events and sponsorship initiatives. AutoCenters Nissan, for instance, initiated a donation campaign to support charities in the St. Louis Area, and they made sure to talk about it on a dedicated page.
Share your history. Learn how to build a heartwarming History page using archive images and quotes from Harry Robinson, a Buick and GMC dealership in Fort Smith, Arkansas.
Invite customers behind the scenes. Graff Chevrolet, a car seller in Bangor Township, Michigan, makes their staff relatable to clients by posting light-hearted bios and candid photos.
3.) Putting buyers in the social media driver's seat
Whether you have hundreds or thousands of social media followers, posting more photos with new car owners will amplify your company's visibility and attract more buyers. Visual testimonials are one of the simplest, yet most effective content marketing strategies. Almost 53% of consumers say that images influence their shopping more than ratings or reviews and 56% said visuals trump product descriptions.
Toyota of Fayetteville, a Toyota dealership in Fayetteville, Arkansas, is already profiting from this tactic. The company turned its Instagram account into a visual testimonial catalog featuring beaming customers.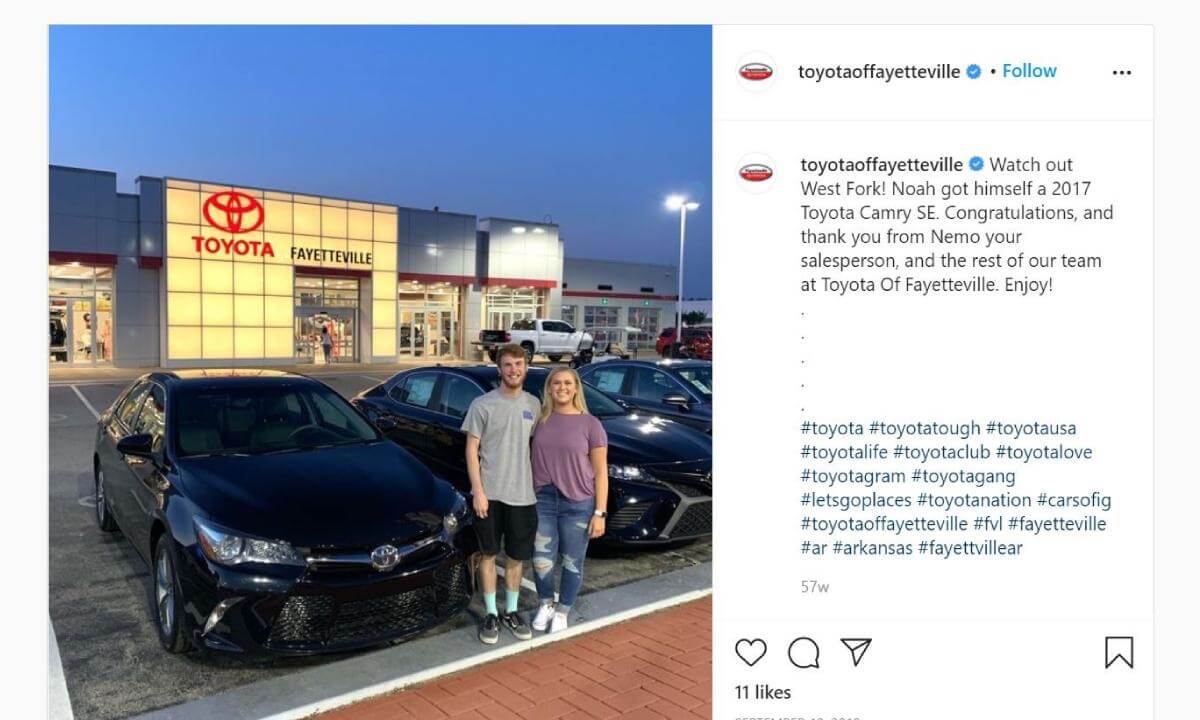 Image from @toyotaoffayettevilleInstagram

This strategy works even amid a pandemic. Ask past customers to share a photo with their car along with a short caption and make sure to tag you, so their followers will see it too. An equally effective visual content strategy to help you grow your business and attract highly-qualified leads is building attractive, local guides.
Local guides are another way to capture leads with non-traditional (read: not boring) auto dealership content. Similar to the Dangerous Intersections post above, this guide targeted a larger local audience than just those shopping for vehicles. For example, if you're selling Jeeps, you might want to create and share camping guides and infographics that resonate with adventurous and outdoorsy audiences. Sedan owners, however, might be more inclined to engage with graphics that provide commuting tips. If you're a car dealer in Michigan, you could delight your followers with an infographic that shows them how to keep their vehicle in top shape during frigid temperatures.

While your showrooms might be closed or minimally operating, all these strategies are extremely efficient in increasing remote selling. A Cars.com report discovered that 71% of consumers want the option to purchase their car online.

---
About Author
---