Have you ever wanted second-by-second insights on how your website and applications are performing? AppDynamics is an application performance management tool that allows for real-time, global visibility into different IT environments. The AppDynamics tool is very powerful from a troubleshooting and debugging perspective and it can help developers pinpoint the root cause of an issue much faster than traditional methods.
AppDynamics has sophisticated tracking abilities that can allow you to monitor an array of metrics. Here are 4 of our favorite metrics to track when monitoring websites and applications:
Critical Business Transactions
One of the largest benefits of AppDynamic has to do with its ability to track custom processes that you define. Based on your own unique needs, you can define the specific processes that you want to capture and track. Once you establish baseline performance rates you can set up automated for immediate attention. Some of these proceses can include add to cart, form submissions, order processing, third party calls like shipping rates, product availability and/or processing calls from your ERP. The sky is the limit for what processes and transactions you can track in real time, helping you resolve issues faster.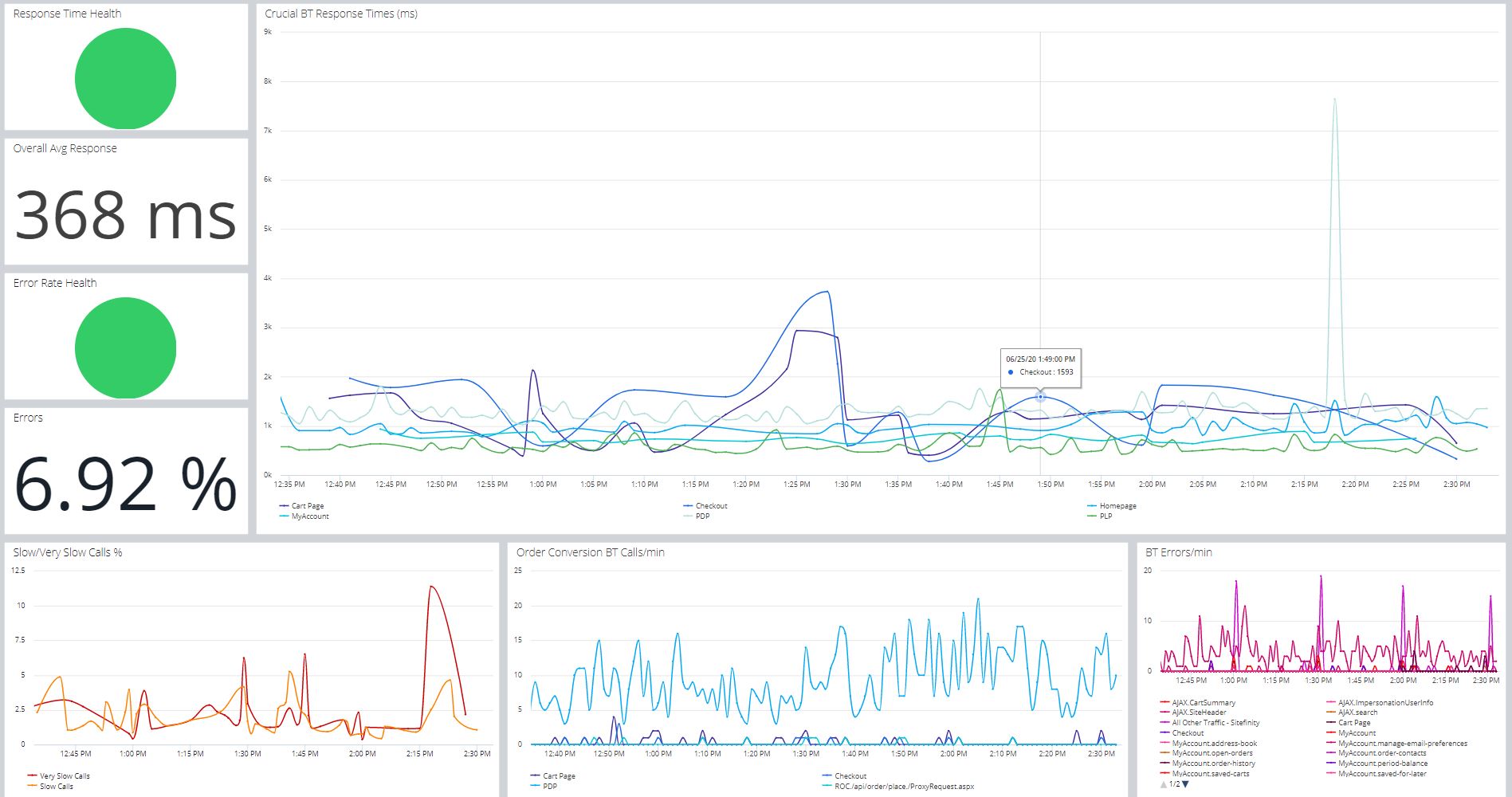 CPU and Memory Usage
When a computer or server does any type of work, it needs the capacity to do so. If a program is using a lot of CPU or memory, it can run slowly or even crash. Higher than average CPU usage can also cause issues with the other functional elements on your website.
In AppDynamics, you can easily see live CPU usage, memory demands, and disk read/write speeds to make sure usage doesn't affect your application's performance. By seeing these metrics come in exactly as they are happening, you can make fixes on the fly to ensure your users don't experience any slowdowns. If you happen to see consistently high CPU and memory usage metrics this may signal that it's time to prepare your website and hosting infrastructure to handle larger loads.
Error Rates
As most know, frequent errors can have major impacts on a website. Research shows that visitors abandon carts 20% of the time because of website errors or crashes and the majority of errors are never even reported. Without a solid application performance management tool, you could have no idea about where and when errors are occurring on your website.
AppDynamics is extremely valuable as it not only tracks all of the errors happening on your site in real-time, you can also specify exactly what error to track and pinpoint the exact action that causes it to happen. If an error happens in the transaction stage, you can set up a notification that gets sent to a specific team member. This tracking also matches the user to the error so companies can take a more proactive approach and reach out to impacted customers to assist with their transactions after the error.

Average Response Time
Average response time pertains to the amount of time it takes an application to perform an action. Response time is a great metric to track and see whether speed is impacting app performance. This can offer some great insights into whether end users are sitting in front of long, lagging loading screens.
AppDynamics can push this even further when you specify exactly what element of the application that you want to track. The tool can compare response times for logins, punchout, checkout, and external applications to uncover the exact action that is causing the slow down.
Interested in learning more about AppDynamics? Contact an Americaneagle.com expert to see how the platform can help your company.
---
About Author
---