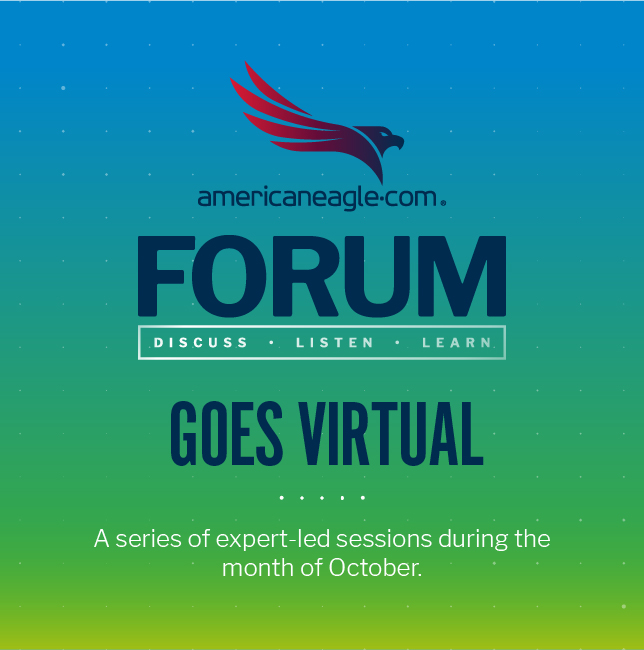 Online Sessions
As many of our longtime clients already know, the Americaneagle.com Forum is an exciting in-person event that we host annually. This event (which is always free to attend!) enables our clients to come together to network, learn from their peers, and engage in sessions led by many of our top digital experts.
While we love being able to see everyone face-to-face during our Forums, we understand this is not possible this year due to the pandemic. However, our goal remains the same - to continue to offer new and innovative ways to help our clients accelerate their digital growth. With that, we are excited to launch a virtual Forum series!
Review our calendar below for an overview of all the sessions we plan to bring in October! Marketing sessions will be held every Tuesday at 11am and Advanced/technical sessions will be held every Thursday at 11am. You can register for as many sessions as you'd like (selections can be made in the form below). We are looking forward to "seeing" everyone virtually this year!
New Keynote Session Added!
Oct. 23rd @ 11am CST - The Impact of AI, Machine Learning, & IoT on our Future
Artificial Intelligence (AI), Machine Learning, Deep Learning, and the Internet of Things (IoT) are being used throughout our lives everyday– these are all topics that we are increasingly hearing about in the news, media, movies, books, and more. Industries such as healthcare, financial services, retail, automotive, transportation, oil and gas, and others are utilizing these latest technologies to simplify many daily tasks by detecting, predicting, and classifying to enhance and streamline processes.
In this keynote presentation, we will share the current state of AI, Machine Learning and IoT and provide examples of global projects that members of the team have participated in. You will come away having an understanding of the kind of intelligence that can be brought to processes for various businesses. Americaneagle.com is excited to introduce this information and bring to light our ability, knowledge, and experience for any AI or Machine Learning projects now or in the future.
Marketing Sessions
Oct. 6 @ 11am CST – Utilizing Data to Enhance a Content-Driven User Journey
In this session, attendees will learn about content, how they can maximize their content strategy, and how to repurpose their existing data to make site improvements that will yield higher conversions and promote ease-of-use.
Oct. 13 @ 11am CST – Ecommerce Best Practices for Gaining More Online Sales
The holiday season is fast approaching. For online retailers, October is a major planning month. In this session, our ecommerce experts will discuss several ecommerce best practices that can help increase revenue and traffic to your online business.
Oct. 20 @ 11am CST – Digital Marketing Strategies and Tactics to Advance Your Website
In this session, we'll walk through how we helped one of our clients, Repair Clinic, with their digital marketing and the impact it is making. From content marketing and strategy, to email marketing, video/imagery, and more, our digital marketing experts will uncover the essential elements to grow your traffic and conversions.
Oct. 27 @ 11am CST – Diving into Design: What Makes for Stellar Website Design/UX/UI
A good website design is so much more than just nice graphics. In this session, you'll hear from a senior UX designer on how we plan for and execute website designs focused on optimal UX/UI. We will showcase several designs and highlight all the elements and planning details that went into making them successful.
Advanced Sessions
Oct. 8 @ 11am CST – Advanced SEO: Comprehensive Overview and Latest Updates
For most organizations, a strong SEO strategy is critical to their business. In this advanced session, our speakers will take a comprehensive look at SEO. You will learn about developing SEO content as we move into 2021 and how creating thorough and interrelated content is still the primary focus of SEO. Attendees will also come away learning the newest algorithm changes within Google and what you can do to solve your website SEO challenges in 2021.
Oct. 15 @11am CST – Getting Up to Speed: Top Considerations for Great Hosting & Performance
Your website's hosting and performance are among the most important elements to ensure online success. In this session, you'll learn the newest developments from Americaneagle.com that will help improve your hosting performance. We will also cover additional services that can make a significant impact on your site's performance, speed, and reliability.
Oct. 22 @ 11am CST– Uncovering the Right Mobile App Technology for Your Business
Can your business benefit from mobile apps? Join Lino Tadros, Americaneagle.com's Chief Evangelist and newly-appointed Microsoft Regional Director, as he walks you through mobile app technology and how it can be applied to your business. You'll discover how businesses are using them, new technology/frameworks being used in development, Native apps, the importance of testing and monitoring, and identifying when the timing is right. In addition, we will share our predictions for what the future of mobile apps may hold.
Oct. 29 @ 11am CST – Integration Insights: Successfully Leveraging Middleware
Integrations, and those specifically leveraging middleware, is increasingly become a critical component of many projects. In this advanced session we will share the basics of middleware comprehension, describe how Americaneagle.com uses middleware, how you can go about selecting the right platform for your needs, and much more. No matter your size or digital maturity, you'll come away with a solid understanding on what a successful integrated systems transformation looks like.
The specified form no longer exists or is currently unpublished.